READYMADE WORLD MENTAL HEALTH DAY POST
World Mental Health Day is on October 10, and as our understanding of mental health grows, we grow along with it. Mental health had come a long way since the early nineties when the World Federation of Mental Health (WFMH) officially established the day. Our self-awareness and sensitivity towards it have changed things for the better. Our language surrounding mental health has improved as words like "crazy" and "lunatic" are used less flippantly. We have come to understand better that they can be unintentionally hurtful and stigmatizing. While we've learned a lot, there's still much more we can do to evolve as a society.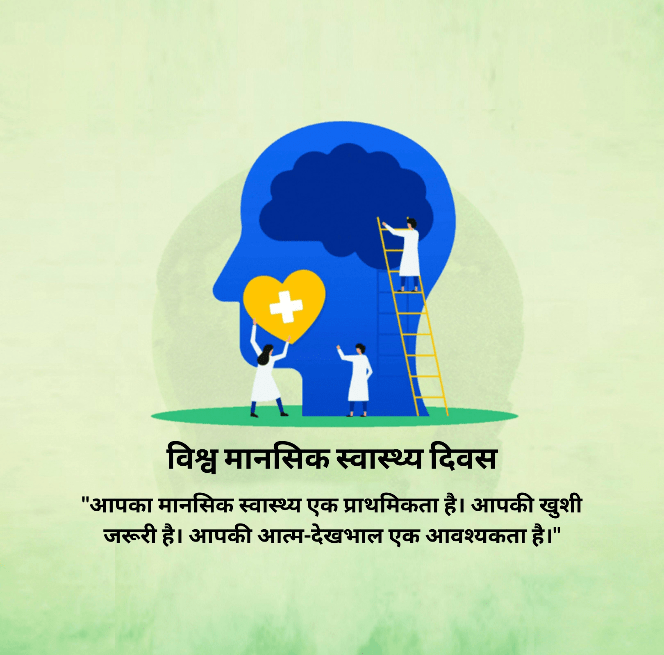 HISTORY OF WORLD MENTAL HEALTH DAY
In 1992, the World Federation of Mental Health led by the deputy secretary-general at the time, Richard Hunter, created World Mental Health Day. They didn't have a precise objective other than to advocate for mental health as a whole. To say the least, it was an uphill climb to change many harmful and dangerous habits that made a difficult situation worse for people.
The world has many mental health issues that weren't correctly treated. There were struggles to gain public funding for treatment in France, inhumane treatment in New Zealand, and an overall ignorance regarding mental health. The WFMH knew they needed to act on a global scale to solve a global crisis.
For the first three years, a two-hour telecast was broadcast across the globe through the U.S. information agency satellite. The studio was located in Tallahassee, Florida, and it became a useful way to get its advocacy message out to the world. They had participation from Chile, England, Australia, and Zambia, while Geneva, Atlanta, and Mexico City pre-taped segments for the broadcast.
The first World Mental Health Day theme was 'Improving the Quality of Mental Health Services throughout the World' in 1994. 27 countries sent feedback reports after the campaign, and there were national campaigns in Australia and England. Continuing this momentum, WFMH board members across the globe arranged events according to the day and its growing popularity among government departments, organizations, and civilians.
Starting in 1995 and continuing, the Pan American Health Organization (PAHO) arranged the translation of the planning kit material into Spanish, French, Russian, Hindi, Japanese, Chinese, and Arabic. As the years passed, more countries got involved and consequently, so did civilians as the perception of mental health became more synonymous with human rights.
The themes for World Mental Health Day expanded along with the times. Women, children, health, work, trauma, suicide, and so much more became a part of the conversation, and today, the average citizen is more knowledgeable regarding mental health.
WHY WORLD MENTAL HEALTH DAY IS IMPORTANT
Identify the problem
The idea of the mind is an abstract concept, and this day allows us to think about our thoughts. We're evolving beyond outdated perceptions and releasing the stigma of mental health so we can properly diagnose it and care for ourselves. The battle becomes more manageable with the burden and fear removed from mental health issues.
Share your pain
This day reminds you that you're not alone, whatever you're going through. Too often think we're the only ones facing a hard time. It's uplifting to know that other people have gone through it and made it to the other end. It reminds you that you can overcome your pain.
Proper treatment
As our understanding of mental health grows, so does our ability to seek proper treatment. With the right therapist and necessary medication, you can operate more efficiently. The more accepting we are and the more funding put into research and mental healthcare, the greater the global impact.
WORLD MENTAL HEALTH DAY DATES
| YEAR | DATE | DAY |
| --- | --- | --- |
| 2022 | 10 October | Monday |
| 2023 | 10 October | Tuesday |
| 2024 | 10 October | Thursday |
| 2025 | 10 October | Friday |
| 2026 | 10 October | Saturday |
CAN I CREATE A POST WITHOUT KNOWING DESIGN SKILLS?
Whether you are a small business or a medium business person, whether you are a juice wale, chai wale, or a bakery wale, it is not necessary that you should have design skills to create a post. From Now, You can create a post for your business on the Picwale app in just a few clicks. We have allowed the same design to be made in different languages and ratios.
THE IMPORTANCE OF SOCIAL SHARING IN BUSINESS
The importance of social sharing in business cannot be emphasized enough. The benefits are numerous, and the results demonstrate enormous potential for social media marketing to increase sales. Social media is the most cost-effective tool for sharing content and increasing the visibility of your business. Social media allows businesses to form consumer relationships, build trust, share content, and network with other businesses. Below we look at the importance of social sharing in business and how it can be beneficial.
INCREASED BRAND RECOGNITION
Social media is an excellent way to introduce large audiences of people to your brand. Increased visibility through social media is invaluable, making your brand recognizable and more accessible to new customers. It also allows you to be transparent with potential customers, building relationships and your reputation as a trustworthy business.
PROMOTION
With the help of social media, you can share your content faster and easier than ever before. In just a few clicks, you could have an article or image uploaded that has the potential to be viewed by thousands of people. All you need to do is share your content and add a call to action, encouraging potential customers to get in touch with your company if they want to know more.
Each post you share will be introduced to a new network of individuals, and the more people who know about your business, your ethos and what you offer, the better.
BUILDING LINKS
Using social media together with your content marketing helps you gain and build links organically. As you develop your social media following, you build up a large following of people that can share your content. Every piece of content that hits your website should immediately be shared on your social profiles. Social media is a beautiful way to help enhance your search engine rankings. The days of shortcuts are over, and it's time to get involved and get social.
INCREASE SALES
One of the most significant benefits of social media marketing is the ability to target selected audiences. Social media gives you a great platform to act as an opportunist, increasing your sales social media by working on becoming an engaging brand. Ultimately, you want to develop interest through shared content, interaction with followers, developing relationships, and gaining a following. If you do these things, you will see a long-term increase in your sales.
DOWNLOAD YOUR POST IN JUST A FEW CLICKS

LOGIN
First, log in with your mobile no. and fill in your profile

SELECT CATEGORY
Select your category from 150+ business category

GET STARTED
Now, You are ready to download Your Post.
WHY CHOOSE PICWALE?
Do you still send wishes (posts) sent by someone else to your friends and customers? Or do you download from Google and send greetings to your friends and customers? Do you still take screenshots of other people's WhatsApp status?
chaiwale, juicewale at most, shares the same post sent by someone else because he does not know how to edit / design photos.
One thing is clear from all these things in Today's world branding is very important. Because branding can give a new identity to your business, develop a good trust with customers and grow your business, everyone needs branding to increase their business. Whether it is chaiwale, juicewale, be it paanwale or foodwale.
High and low-class merchants hire agencies for branding, which is impossible for a lower-class trader (e.g.- chaiwale, paanwale, juicewale, salonwale, tailor). To fulfill this need, we have brought "picwale" app for you so that now you can also send wishes to your friends and customers without any design skills. Just one app, one-time profiling, and getting 100% readymade posts for social channels, WhatsApp status, Instagram reels, etc.
Whether you are a small business or a medium business person, whether you are a juice wale, chai wale, or a farmer, it is not necessary that you should have design skills to create a post. From Now, You can create a post for your business on the Picwale app in just a few clicks. We have allowed the same design to be made in different languages and ratios.
Picwale App fulfills your requirement for WhatsApp Status, Instagram Reels, Facebook Stories, Snapchat Post, Pinterest Post, LinkedIn Post, etc. You can download posts for all these platforms in just a few clicks.
You can share birthday wishes, congratulations, event posts, and brand posts with your friends, customers, and relatives, and that too in your own language.
OUR APP FEATURES
EASIEST INTERFACE

Shortlist/Reminder Designs
Multiple Language/Ratio
No Ads & Watch Credit
BIGGEST DATABASE

Royalty-Free Images
No Attribution Required
Adding 100 New Designs Per Day
LOWEST PRICING

120 Designs Free
Blank Image Download
Premium Designs < 1 Rupee