READYMADE AYUSHMAN BHARAT DIWAS POST
Ayushman Bharat Diwas is a significant day in India, celebrated annually on April 30th. The day marks the launch of the Ayushman Bharat Program, Pradhan Mantri Jan Arogya Yojana (PM-JAY), a groundbreaking initiative by the Government of India to provide comprehensive health coverage to the economically disadvantaged. This blog will delve into the origins, objectives, and achievements of this ambitious program and highlight how it has transformed the lives of millions across the country.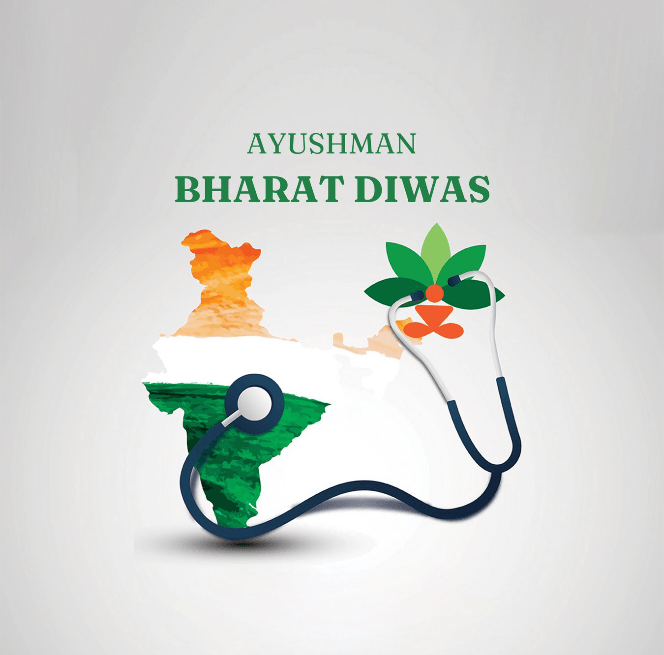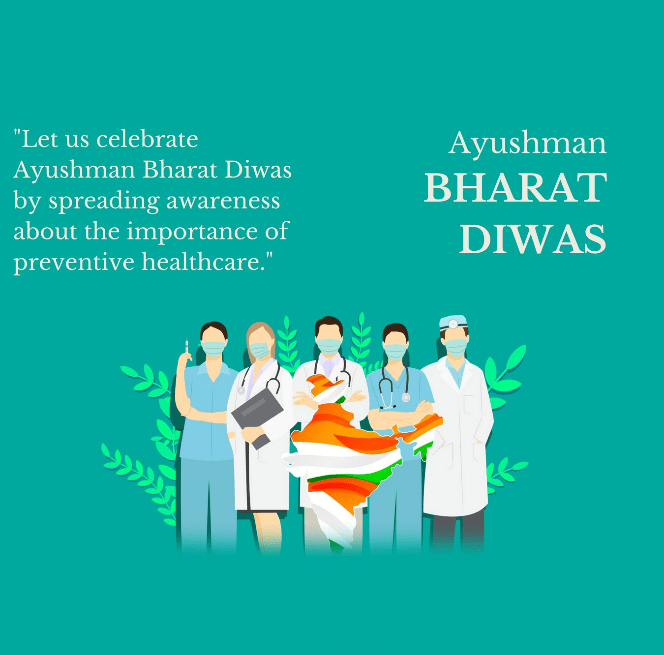 HISTORY OF AYUSHMAN BHARAT DIWAS
Ayushman Bharat Diwas is a significant day in the history of India's healthcare system. Celebrated on April 30th every year, this day marks the launch of one of the largest public healthcare initiatives in the world, the Ayushman Bharat Yojana. As we gear up to celebrate yet another Ayushman Bharat Diwas, let's take a trip down memory lane to understand the history and significance of this groundbreaking healthcare scheme.
The seed for the Ayushman Bharat Yojana was sown in 2018 when the Indian government, under the leadership of Prime Minister Narendra Modi, realized the need for a comprehensive and accessible healthcare system for all. The objective was clear: to provide quality and affordable healthcare to the country's vast population, especially the economically weaker sections.
On April 30, 2018, the Ayushman Bharat Yojana was officially launched. The program aimed to cover over 100 million families and provide a health insurance cover of Rs. 5 lakh (approximately $6,600) per family per year. The scheme primarily targeted the poorest and most vulnerable families, ensuring that they received quality medical care without any financial burden.
BENEFITS OF AYUSHMAN BHARAT YOJANA
Pan-India Portability:
The Ayushman Bharat Yojana Scheme is a nationwide program that allows beneficiaries to access healthcare services from any empaneled hospital in the country. This pan-India portability enables patients to choose their preferred healthcare provider, even if they are outside their home state. This flexibility is particularly advantageous for migrant workers, who often face difficulties accessing healthcare services in a new city.
Focus on Primary Healthcare:
Another key advantage of the Ayushman Bharat Yojana Scheme is its focus on primary healthcare. The scheme aims to establish 150,000 health and wellness centers (HWCs) across India. These HWCs are designed to provide a wide range of services, including preventive and promotional healthcare, maternal and child health services, management of non-communicable diseases, and basic diagnostic and treatment services. By strengthening primary healthcare, the scheme reduces the burden on secondary and tertiary healthcare facilities.
Cashless Treatment:
The Ayushman Bharat Yojana Scheme offers cashless treatment, ensuring that beneficiaries do not need to pay upfront for healthcare services. Instead, the empaneled hospitals receive payment directly from the government. This cashless system significantly reduces out-of-pocket expenses for economically disadvantaged families and encourages them to seek timely medical care.
AYUSHMAN BHARAT DIWAS FOR THE UPCOMING 5 YEARS
| YEAR | DATE | DAY |
| --- | --- | --- |
| 2023 | 30 April | Sunday |
| 2024 | 30 April | Tuesday |
| 2025 | 30 April | Wednesday |
| 2026 | 30 April | Thursday |
| 2027 | 30 April | Friday |
DOWNLOAD YOUR POST IN JUST A FEW CLICKS

LOGIN
First, log in with your mobile no. and fill in your profile

SELECT CATEGORY
Select your category from 150+ business category

GET STARTED
Now, You are ready to download Your Post.
WHY CHOOSE PICWALE?
Do you still send wishes (posts) sent by someone else to your friends and customers? Or do you download from Google and send greetings to your friends and customers? Do you still take screenshots of other people's WhatsApp status?
chaiwale, juicewale at most, shares the same post sent by someone else because he does not know how to edit / design photos.
One thing is clear from all these things in Today's world branding is very important. Because branding can give a new identity to your business, develop a good trust with customers and grow your business, everyone needs branding to increase their business. Whether it is chaiwale, juicewale, be it paanwale or foodwale.
High and low-class merchants hire agencies for branding, which is impossible for a lower-class trader (e.g.- chaiwale, paanwale, juicewale, salonwale, tailor). To fulfill this need, we have brought "picwale" app for you so that now you can also send wishes to your friends and customers without any design skills. Just one app, one-time profiling, and getting 100% readymade posts for social channels, WhatsApp status, Instagram reels, etc.
Whether you are a small business or a medium business person, whether you are a juice wale, chai wale, or a farmer, it is not necessary that you should have design skills to create a post. From Now, You can create a post for your business on the Picwale app in just a few clicks. We have allowed the same design to be made in different languages and ratios.
Picwale App fulfills your requirement for WhatsApp Status, Instagram Reels, Facebook Stories, Snapchat Post, Pinterest Post, LinkedIn Post, etc. You can download posts for all these platforms in just a few clicks.
You can share birthday wishes, congratulations, event posts, and brand posts with your friends, customers, and relatives, and that too in your own language.
OUR APP FEATURES
EASIEST INTERFACE

Shortlist/Reminder Designs
Multiple Language/Ratio
No Ads & Watch Credit
BIGGEST DATABASE

Royalty-Free Images
No Attribution Required
Adding 100 New Designs Per Day
LOWEST PRICING

120 Designs Free
Blank Image Download
Premium Designs < 1 Rupee