READYMADE BAISAKHI POST
Baisakhi, a major festival celebrated in the northern part of India, particularly in the state of Punjab, holds great significance for the Sikh and Hindu communities. Marking the commencement of the harvest season and the solar new year, it occurs annually on the 13th or 14th of April. The event is an occasion for jubilation as people rejoice in the prosperity of the agricultural harvest. Farmers offer their gratitude to nature and seek blessings for future abundance.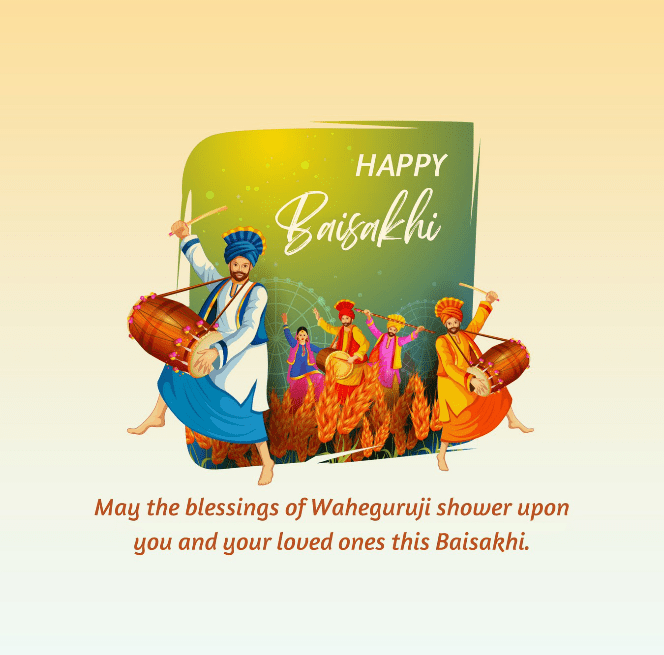 HISTORY OF BAISAKHI
Baisakhi, also known as Vaisakhi, is an ancient festival with deep cultural and religious significance, celebrated primarily in the Punjab region of India and Pakistan. The history of Baisakhi can be traced back thousands of years, as it is rooted in multiple traditions and belief systems. It holds a special place in the hearts of millions, marking the beginning of the harvest season and commemorating an important moment in Sikh history.
Baisakhi has its roots in the agricultural cycle, as it signals the start of the harvest season for rabi crops in the northern Indian subcontinent. The festival typically falls on April 13th or 14th, according to the solar calendar. For centuries, farmers have looked forward to Baisakhi with joy and anticipation, as it signifies the fruition of their hard work and the promise of prosperity. The occasion is marked by thanksgiving prayers, feasting, and traditional dances, such as the energetic Bhangra and Giddha, which express the community's shared happiness and gratitude for a bountiful harvest.
Baisakhi also holds religious importance for Hindus, as it is considered an auspicious time to participate in religious ceremonies and rituals. Many Hindus celebrate Baisakhi by taking a dip in sacred rivers, such as the Ganges, in the belief that it will purify their souls and bring them closer to spiritual enlightenment. Additionally, Baisakhi coincides with the solar new year in several regional calendars, including the Punjabi, Assamese, and Bengali calendars. This aspect of the festival is observed through prayers, feasts, and the exchange of gifts and greetings among friends and family.
HOW TO CELEBRATE BAISAKHI
Enjoy cultural events:
Many cities host Baisakhi parades or melas (fairs) featuring traditional music, dance performances, and food stalls. Attend these events to immerse yourself in the joyous atmosphere and learn more about the cultural aspects of the festival.
Dress in traditional attire:
Embrace the festive spirit by wearing traditional clothing. Men can wear kurta-pyjamas, while women can opt for a salwar-kameez or a Punjabi suit. Bright colours, such as orange, yellow, and green, are typically worn to signify prosperity and joy.
Attend a Gurdwara:
Start your day by visiting a local Sikh temple, or Gurdwara, to offer prayers and seek blessings. Participate in the community langar (free meal), which symbolizes equality and unity. Many Gurdwaras also organise special programmes or kirtans (devotional songs) to mark Baisakhi.
BAISAKHI FOR THE UPCOMING 5 YEARS
| YEAR | DATE | DAY |
| --- | --- | --- |
| 2023 | 14 April | Friday |
| 2024 | 14 April | Saturday |
| 2025 | 14 April | Monday |
| 2026 | 14 April | Tuesday |
| 2027 | 14 April | Wednesday |
DOWNLOAD YOUR POST IN JUST A FEW CLICKS

LOGIN
First, log in with your mobile no. and fill in your profile

SELECT CATEGORY
Select your category from 150+ business category

GET STARTED
Now, You are ready to download Your Post.
WHY CHOOSE PICWALE?
Do you still send wishes (posts) sent by someone else to your friends and customers? Or do you download from Google and send greetings to your friends and customers? Do you still take screenshots of other people's WhatsApp status?
chaiwale, juicewale at most, shares the same post sent by someone else because he does not know how to edit / design photos.
One thing is clear from all these things in Today's world branding is very important. Because branding can give a new identity to your business, develop a good trust with customers and grow your business, everyone needs branding to increase their business. Whether it is chaiwale, juicewale, be it paanwale or foodwale.
High and low-class merchants hire agencies for branding, which is impossible for a lower-class trader (e.g.- chaiwale, paanwale, juicewale, salonwale, tailor). To fulfill this need, we have brought "picwale" app for you so that now you can also send wishes to your friends and customers without any design skills. Just one app, one-time profiling, and getting 100% readymade posts for social channels, WhatsApp status, Instagram reels, etc.
Whether you are a small business or a medium business person, whether you are a juice wale, chai wale, or a farmer, it is not necessary that you should have design skills to create a post. From Now, You can create a post for your business on the Picwale app in just a few clicks. We have allowed the same design to be made in different languages and ratios.
Picwale App fulfills your requirement for WhatsApp Status, Instagram Reels, Facebook Stories, Snapchat Post, Pinterest Post, LinkedIn Post, etc. You can download posts for all these platforms in just a few clicks.
You can share birthday wishes, congratulations, event posts, and brand posts with your friends, customers, and relatives, and that too in your own language.
OUR APP FEATURES
EASIEST INTERFACE

Shortlist/Reminder Designs
Multiple Language/Ratio
No Ads & Watch Credit
BIGGEST DATABASE

Royalty-Free Images
No Attribution Required
Adding 100 New Designs Per Day
LOWEST PRICING

120 Designs Free
Blank Image Download
Premium Designs < 1 Rupee