READYMADE CHAITRA NAVRATRI POST
Chaitra Navratri is a Hindu holiday that lasts for nine days and honours the goddess Durga's divine feminine energy. It is celebrated in the Hindu month of Chaitra, which corresponds to the months of March and April. During this time, Hindus who are devoted to the goddess fast, chant mantras, and pray to her. On the ninth day, devotees celebrate a grand finale by performing aarti and bhajans and offering prasad to the goddess. This festival is also celebrated to mark the beginning of the Hindu New Year.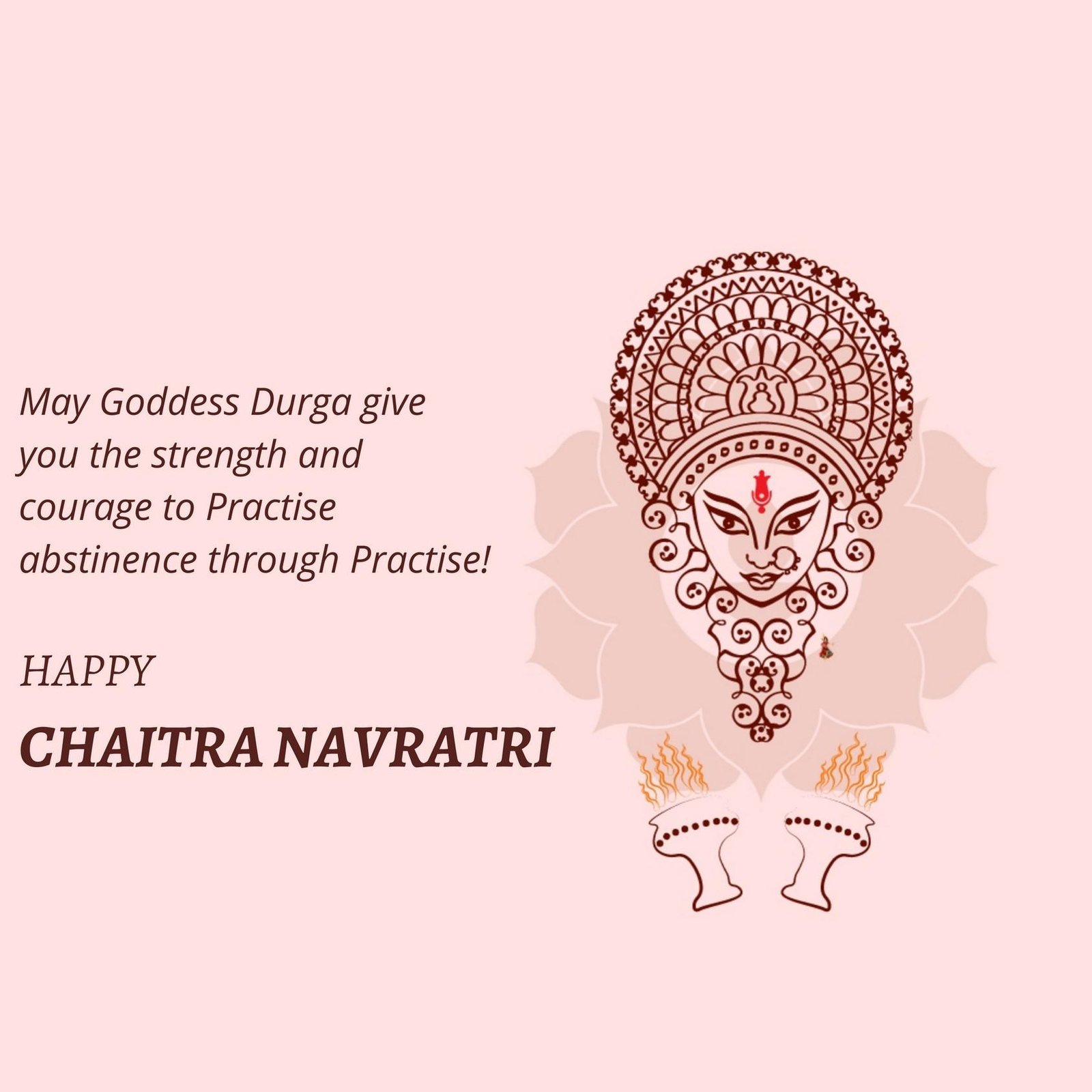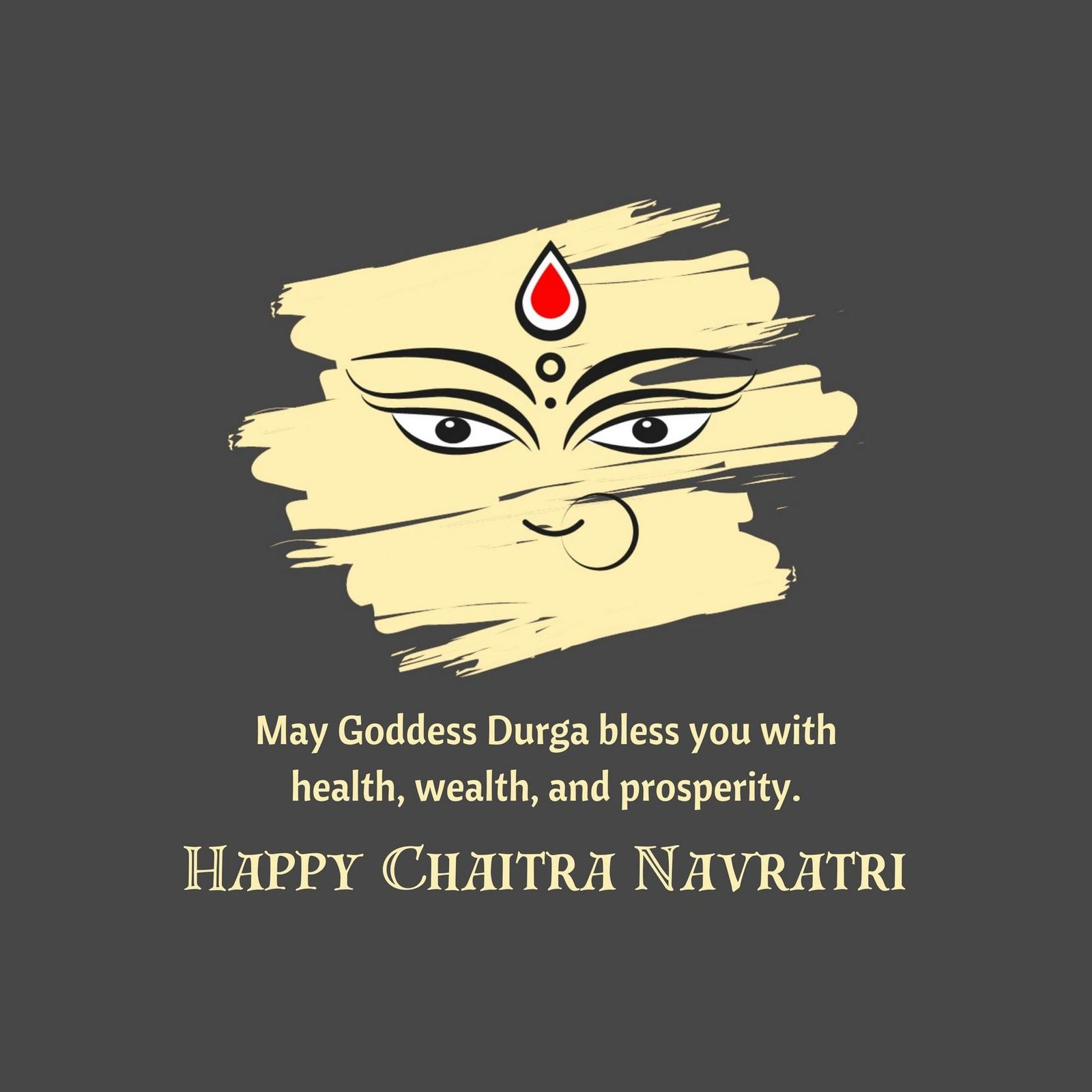 HISTORY OF CHAITRA NAVRATRI
Chaitra Navratri is an important Hindu festival that is celebrated in honour of Goddess Durga and her nine forms. It is celebrated in the Chaitra month, which falls between March and April. Chaitra Navratri is also known as Vasant Navratri or Spring Navratri. During Chaitra Navratri, Goddess Durga is worshipped for nine days. On the tenth day, known as Vijayadashami, the idol of Goddess Durga is immersed in water.
Chaitra Navratri is believed to be the time when Lord Rama was born. It is also believed that on this day, Goddess Durga defeated the demon Mahishasura and saved the world from his tyranny. Chaitra Navratri is celebrated with enthusiasm and devotion all over India. People organise musical events and cultural programmes to mark the occasion. People also exchange gifts and sweets during the festival.
During Chaitra Navratri, people observe fasts and perform various rituals like aarti and puja. People also visit temples to offer prayers. Devotees also offer flowers, fruits, and other items to the goddess. Devotees also perform special prayer rituals such as Chandra Darshan (worshipping the moon) and Gauri Pujan (worshipping the divine mother).
HOW TO CELEBRATE CHAITRA NAVRATRI
Perform Puja.
During Chaitra Navratri, Hindus perform special pujas or rituals to honour the nine forms of the goddess. Offerings such as flowers, fruits, sweets, and incense are made to the goddess.
Decorate Your Home.
Decorating your home with colourful lights and decorations is a great way to bring in the festive spirit of Chaitra Navratri. Hang garlands, light diyas, and create rangolis to bring in the positive energy of the festival.
Visit Temples.
Visiting temples is a popular way to mark Chaitra Navratri. Visit your local temple and take part in the puja and other activities that are organized there.
CHAITRA NAVRATRI FOR THE UPCOMING 5 YEARS
| YEAR | DATE | DAY |
| --- | --- | --- |
| 2023 | 22 March | Wednesday |
| 2024 | 09 April | Tuesday |
| 2025 | 30 March | Sunday |
| 2026 | 19 March | Thursday |
| 2027 | 07 April | Wednesday |
DOWNLOAD YOUR POST IN JUST A FEW CLICKS

LOGIN
First, log in with your mobile no. and fill in your profile

SELECT CATEGORY
Select your category from 150+ business category

GET STARTED
Now, You are ready to download Your Post.
WHY CHOOSE PICWALE?
Do you still send wishes (posts) sent by someone else to your friends and customers? Or do you download from Google and send greetings to your friends and customers? Do you still take screenshots of other people's WhatsApp status?
chaiwale, juicewale at most, shares the same post sent by someone else because he does not know how to edit / design photos.
One thing is clear from all these things in Today's world branding is very important. Because branding can give a new identity to your business, develop a good trust with customers and grow your business, everyone needs branding to increase their business. Whether it is chaiwale, juicewale, be it paanwale or foodwale.
High and low-class merchants hire agencies for branding, which is impossible for a lower-class trader (e.g.- chaiwale, paanwale, juicewale, salonwale, tailor). To fulfill this need, we have brought "picwale" app for you so that now you can also send wishes to your friends and customers without any design skills. Just one app, one-time profiling, and getting 100% readymade posts for social channels, WhatsApp status, Instagram reels, etc.
Whether you are a small business or a medium business person, whether you are a juice wale, chai wale, or a farmer, it is not necessary that you should have design skills to create a post. From Now, You can create a post for your business on the Picwale app in just a few clicks. We have allowed the same design to be made in different languages and ratios.
Picwale App fulfills your requirement for WhatsApp Status, Instagram Reels, Facebook Stories, Snapchat Post, Pinterest Post, LinkedIn Post, etc. You can download posts for all these platforms in just a few clicks.
You can share birthday wishes, congratulations, event posts, and brand posts with your friends, customers, and relatives, and that too in your own language.
OUR APP FEATURES
EASIEST INTERFACE

Shortlist/Reminder Designs
Multiple Language/Ratio
No Ads & Watch Credit
BIGGEST DATABASE

Royalty-Free Images
No Attribution Required
Adding 100 New Designs Per Day
LOWEST PRICING

120 Designs Free
Blank Image Download
Premium Designs < 1 Rupee