READYMADE GURU GOBIND SINGH JAYANTI POST
Guru Gobind Singh was the tenth Guru of Sikh, born on December 22, 1666, in Patna, Bihar. According to the Nanakshahi calendar, his birth anniversary falls on January 09 this year. After the demise of his father, Guru Tegh Bahadur, Guru Gobind Singh became the leader of the Sikhs at the age of nine. He was a great warrior, poet, philosopher, and theologian credited for creating the Khalsa (the collective body of initiated Sikhs) and introducing the Five Ks, which define the Sikh identity. He wrote the Dasam Granth, a sacred scripture of the Sikhs. He was martyred in October 1708.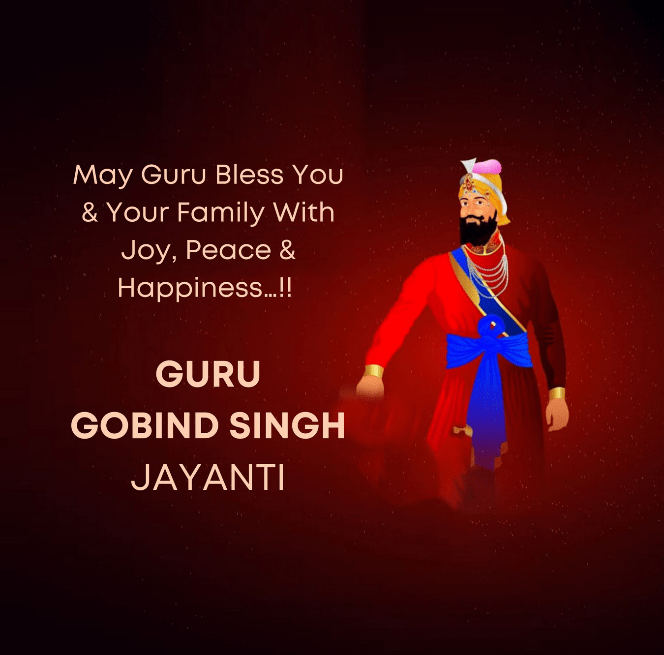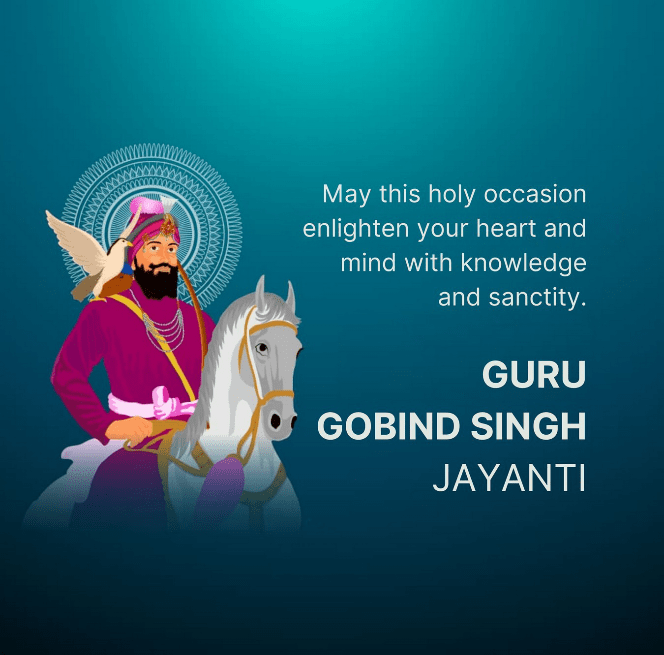 HISTORY OF GURU GOBIND SINGH JAYANTI
Guru Gobind Singh Jayanti is a festival celebrated in India to mark the birth of the tenth Sikh Guru, Guru Gobind Singh. The festival is celebrated on the day of the Poh sudi of the lunar month of Poh in the Bikrami calendar, which corresponds to the month of January or December in the Gregorian calendar. The day is also known as 'Gurpurab', which literally means celebration of the Guru.
Guru Gobind Singh was born on December 22, 1666, in Patna, Bihar. He was the only son of Guru Tegh Bahadur and Mata Gujri. He was a great warrior and spiritual leader who established the Khalsa Panth, a group of devoted Sikhs and established the foundations of the Sikh religion.
Guru Gobind Singh Jayanti is celebrated in many ways. Prayers are offered in Gurudwaras and special langars (community meals) are prepared to commemorate the birth of Guru Gobind Singh. Devotees also pay homage to Guru Gobind Singh by singing hymns and chanting prayers. Procession of the Guru's palanquin is also brought out in various places to mark the occasion.
HOW TO CELEBRATE GURU GOBIND SINGH JAYANTI?
Visit a Gurdwara.
Visiting a Gurdwara and participating in the special prayers and hymns dedicated to Guru Gobind Singh is one of the best ways to celebrate the day.
Read about Guru Gobind Singh.
Read about the life and teachings of Guru Gobind Singh, and share the knowledge with others.
Prepare a Prasad.
Prepare a special prasad (offering) for the Guru and distribute it among family, friends, and neighbors.
GURU GOBIND SINGH JAYANTI DATES FOR THE UPCOMING 5 YEARS
| YEAR | DATE | DAY |
| --- | --- | --- |
| 2022 | 29 December | Thursday |
| 2024 | 17 January | Wednesday |
| 2025 | 06 January | Monday |
| 2026 | 20 January | Tuesday |
| 2027 | 15 January | Friday |
DOWNLOAD YOUR POST IN JUST A FEW CLICKS

LOGIN
First, log in with your mobile no. and fill in your profile

SELECT CATEGORY
Select your category from 150+ business category

GET STARTED
Now, You are ready to download Your Post.
WHY CHOOSE PICWALE?
Do you still send wishes (posts) sent by someone else to your friends and customers? Or do you download from Google and send greetings to your friends and customers? Do you still take screenshots of other people's WhatsApp status?
chaiwale, juicewale at most, shares the same post sent by someone else because he does not know how to edit / design photos.
One thing is clear from all these things in Today's world branding is very important. Because branding can give a new identity to your business, develop a good trust with customers and grow your business, everyone needs branding to increase their business. Whether it is chaiwale, juicewale, be it paanwale or foodwale.
High and low-class merchants hire agencies for branding, which is impossible for a lower-class trader (e.g.- chaiwale, paanwale, juicewale, salonwale, tailor). To fulfill this need, we have brought "picwale" app for you so that now you can also send wishes to your friends and customers without any design skills. Just one app, one-time profiling, and getting 100% readymade posts for social channels, WhatsApp status, Instagram reels, etc.
Whether you are a small business or a medium business person, whether you are a juice wale, chai wale, or a farmer, it is not necessary that you should have design skills to create a post. From Now, You can create a post for your business on the Picwale app in just a few clicks. We have allowed the same design to be made in different languages and ratios.
Picwale App fulfills your requirement for WhatsApp Status, Instagram Reels, Facebook Stories, Snapchat Post, Pinterest Post, LinkedIn Post, etc. You can download posts for all these platforms in just a few clicks.
You can share birthday wishes, congratulations, event posts, and brand posts with your friends, customers, and relatives, and that too in your own language.
OUR APP FEATURES
EASIEST INTERFACE

Shortlist/Reminder Designs
Multiple Language/Ratio
No Ads & Watch Credit
BIGGEST DATABASE

Royalty-Free Images
No Attribution Required
Adding 100 New Designs Per Day
LOWEST PRICING

120 Designs Free
Blank Image Download
Premium Designs < 1 Rupee