READYMADE HANUMAN JANMOTSAV POST
Hanuman Janmotsav is a Hindu holiday that is held every year on the 15th day of the Shukla Paksha in the month of Chaitra. It is a celebration of the birth of Hanuman Ji. Hanuman loves Lord Ram very much and is one of the most respected people in Hinduism. According to legend, Hanuman was born to Anjana and Kesari. Hanuman's birth symbolises strength, power, and devotion. He is believed to be an incarnation of Lord Shiva and is worshipped for his power and strength. Hanuman Janmotsav is celebrated with great enthusiasm, devotion, and joy. It is an occasion to remember the strength, power, and courage of Lord Hanuman and to seek his blessings for a peaceful and prosperous life.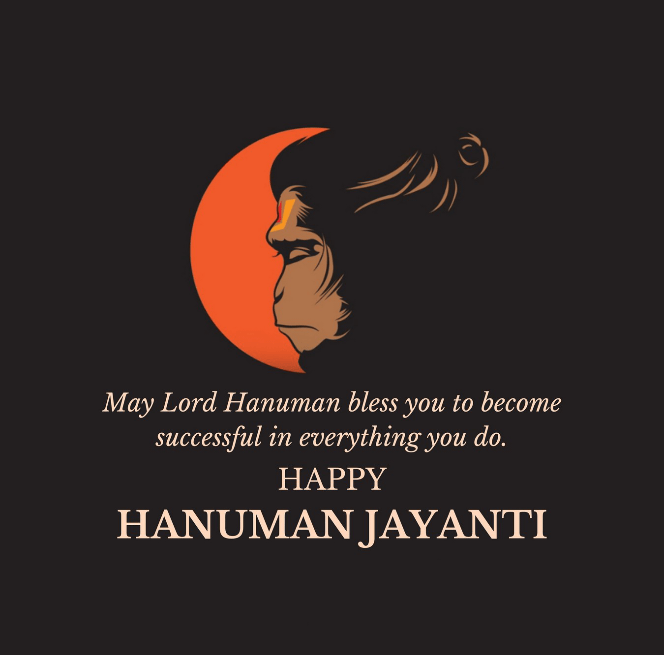 HISTORY OF HANUMAN JANMOTSAV
Hanuman Janmotsav is an annual Hindu festival that celebrates the birth of Hanuman, an avatar of Lord Shiva in Hindu mythology. The festival is celebrated on the full moon day in the month of Chaitra (March/April). It is believed that Lord Hanuman was born on this day to divine parents Anjana, who was an Apsara in the court of Lord Indra, and Kesari, a Vanara chief.
On the day of the festival, devotees gather in temples and chant hymns to Hanuman. Offerings of flowers, fruits, and sweets are made to the idol of Lord Hanuman. Special prayers and pujas are performed in the presence of his image. Some devotees even fast on the day or throughout the week to honour Lord Hanuman.
The festival is celebrated throughout India but is especially popular in North India. In some places, a procession is taken out on this day with a giant idol of Lord Hanuman placed on a chariot. A recitation of verses from the Ramayana and other sacred texts follows this.
At the end of the day, devotees gather around a bonfire, sing bhajans, and offer prayers to Lord Hanuman. The bonfire symbolizes the vanquishing of evil. After the puja is completed, people distribute sweets among themselves, symbolising the joy of the occasion.
HOW TO CELEBRATE HANUMAN JANMOTSAV
Chant Hanuman Chalisa:
One of the best ways to celebrate this occasion is to chant Hanuman Chalisa, a hymn of devotion to Lord Hanuman. On the day of the event, it is traditional to chant this at least once.
Pray:
Pray to Lord Hanuman and ask him for his blessings. People believe that Lord Hanuman is an avatar of Lord Shiva and that he is a powerful god who can protect his followers from all kinds of evil.
Visit Hanuman Temples:
Go to a temple dedicated to Lord Hanuman and pray to him. Flowers and fruit are often given to the deity as gifts.
Fast:
During the holiday, fasting is a common thing to do. People who fast on this day believe that they will be protected and do well in life.
HANUMAN JANMOTSAV FOR THE UPCOMING 5 YEARS
| YEAR | DATE | DAY |
| --- | --- | --- |
| 2023 | 06 April | Thursday |
| 2024 | 23 April | Tuesday |
| 2025 | 12 April | Saturday |
| 2026 | 02 April | Thursday |
| 2027 | 20 April | Tuesday |
DOWNLOAD YOUR POST IN JUST A FEW CLICKS

LOGIN
First, log in with your mobile no. and fill in your profile

SELECT CATEGORY
Select your category from 150+ business category

GET STARTED
Now, You are ready to download Your Post.
WHY CHOOSE PICWALE?
Do you still send wishes (posts) sent by someone else to your friends and customers? Or do you download from Google and send greetings to your friends and customers? Do you still take screenshots of other people's WhatsApp status?
chaiwale, juicewale at most, shares the same post sent by someone else because he does not know how to edit / design photos.
One thing is clear from all these things in Today's world branding is very important. Because branding can give a new identity to your business, develop a good trust with customers and grow your business, everyone needs branding to increase their business. Whether it is chaiwale, juicewale, be it paanwale or foodwale.
High and low-class merchants hire agencies for branding, which is impossible for a lower-class trader (e.g.- chaiwale, paanwale, juicewale, salonwale, tailor). To fulfill this need, we have brought "picwale" app for you so that now you can also send wishes to your friends and customers without any design skills. Just one app, one-time profiling, and getting 100% readymade posts for social channels, WhatsApp status, Instagram reels, etc.
Whether you are a small business or a medium business person, whether you are a juice wale, chai wale, or a farmer, it is not necessary that you should have design skills to create a post. From Now, You can create a post for your business on the Picwale app in just a few clicks. We have allowed the same design to be made in different languages and ratios.
Picwale App fulfills your requirement for WhatsApp Status, Instagram Reels, Facebook Stories, Snapchat Post, Pinterest Post, LinkedIn Post, etc. You can download posts for all these platforms in just a few clicks.
You can share birthday wishes, congratulations, event posts, and brand posts with your friends, customers, and relatives, and that too in your own language.
OUR APP FEATURES
EASIEST INTERFACE

Shortlist/Reminder Designs
Multiple Language/Ratio
No Ads & Watch Credit
BIGGEST DATABASE

Royalty-Free Images
No Attribution Required
Adding 100 New Designs Per Day
LOWEST PRICING

120 Designs Free
Blank Image Download
Premium Designs < 1 Rupee