READYMADE HAPPY CHOCOLATE DAY POST
Chocolate Day is celebrated on February 9th of every year. On this day, people exchange chocolates as a sign of love and appreciation. Chocolate Day marks the third day of the popular Valentine's Week, which is celebrated in many countries around the world. Chocolate Day is the perfect opportunity to indulge in a delicious treat, show love and appreciation for your loved ones, and express your sweetest feelings to them. On this day, people can give each other chocolates, whether they are handmade or store-bought. It can be anything from a bar of dark chocolate to a box of truffles, a jar of hot chocolate mix, or even a giant box of chocolates. Whatever it is, it's sure to make someone's day special!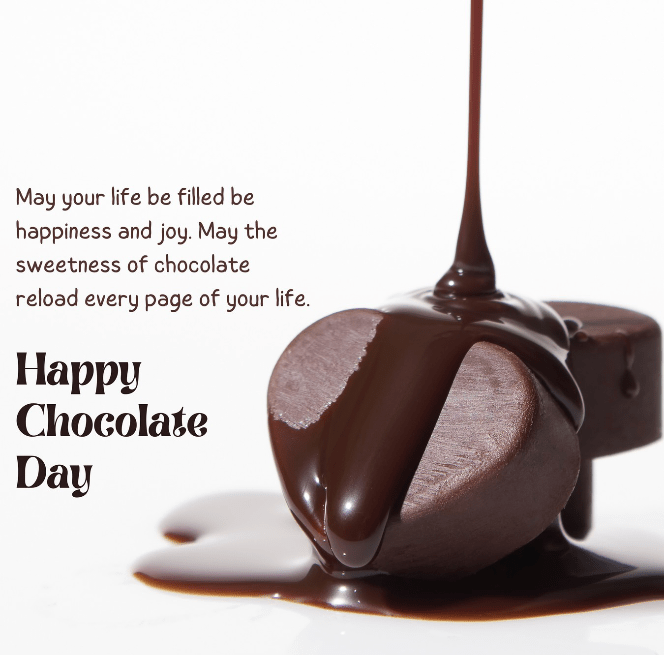 HISTORY OF HAPPY CHOCOLATE DAY
The origins of Chocolate Day can be traced back to the mid-1800s, when the first chocolate-based products were introduced to the market. At this time, chocolate was a rare and expensive treat, usually enjoyed only by wealthy individuals. However, as the Industrial Revolution brought advances in technology and production methods, the cost of producing chocolate decreased, making it more widely available. By the early 1900s, chocolate had become a popular treat enjoyed by people of all social classes.
As the popularity of chocolate increased, so did the number of ways it could be enjoyed. People began to experiment with different flavours and recipes, creating a variety of chocolate-based treats. By the 1950s, the commercial production of chocolate had become a major industry, with chocolate bars, chips, and other treats becoming widely available.
Today is Chocolate Day, which is celebrated on February 9th each year. It is a day to indulge in your favourite chocolate treats and to appreciate the unique flavour and texture of this beloved food. Whether it's a small box of chocolates or a full-size bar, take some time to enjoy the sweet taste of chocolate and to appreciate the long history of this delicious treat.
HOW TO CELEBRATE HAPPY CHOCOLATE DAY?
Make Chocolate Treats:
Get creative by making chocolate treats like brownies, truffles, and cookies. If you're feeling adventurous, try making a chocolate fondue and dipping some fruit into it.
Have a Chocolate Tasting Party:
Invite friends and family over for a chocolate tasting party. Set out a variety of chocolate bars and allow everyone to sample and rate them.
Make a Hot Chocolate Bar:
Get creative and make a hot chocolate bar with a variety of flavors. Offer marshmallows, chocolate chips, and other toppings for people to mix and match.
HAPPY CHOCOLATE DAY DATES FOR THE UPCOMING 5 YEARS
| YEAR | DATE | DAY |
| --- | --- | --- |
| 2023 | 09 February | Thursday |
| 2024 | 09 February | Friday |
| 2025 | 09 February | Sunday |
| 2026 | 09 February | Monday |
| 2027 | 09 February | Tuesday |
DOWNLOAD YOUR POST IN JUST A FEW CLICKS

LOGIN
First, log in with your mobile no. and fill in your profile

SELECT CATEGORY
Select your category from 150+ business category

GET STARTED
Now, You are ready to download Your Post.
WHY CHOOSE PICWALE?
Do you still send wishes (posts) sent by someone else to your friends and customers? Or do you download from Google and send greetings to your friends and customers? Do you still take screenshots of other people's WhatsApp status?
chaiwale, juicewale at most, shares the same post sent by someone else because he does not know how to edit / design photos.
One thing is clear from all these things in Today's world branding is very important. Because branding can give a new identity to your business, develop a good trust with customers and grow your business, everyone needs branding to increase their business. Whether it is chaiwale, juicewale, be it paanwale or foodwale.
High and low-class merchants hire agencies for branding, which is impossible for a lower-class trader (e.g.- chaiwale, paanwale, juicewale, salonwale, tailor). To fulfill this need, we have brought "picwale" app for you so that now you can also send wishes to your friends and customers without any design skills. Just one app, one-time profiling, and getting 100% readymade posts for social channels, WhatsApp status, Instagram reels, etc.
Whether you are a small business or a medium business person, whether you are a juice wale, chai wale, or a farmer, it is not necessary that you should have design skills to create a post. From Now, You can create a post for your business on the Picwale app in just a few clicks. We have allowed the same design to be made in different languages and ratios.
Picwale App fulfills your requirement for WhatsApp Status, Instagram Reels, Facebook Stories, Snapchat Post, Pinterest Post, LinkedIn Post, etc. You can download posts for all these platforms in just a few clicks.
You can share birthday wishes, congratulations, event posts, and brand posts with your friends, customers, and relatives, and that too in your own language.
OUR APP FEATURES
EASIEST INTERFACE

Shortlist/Reminder Designs
Multiple Language/Ratio
No Ads & Watch Credit
BIGGEST DATABASE

Royalty-Free Images
No Attribution Required
Adding 100 New Designs Per Day
LOWEST PRICING

120 Designs Free
Blank Image Download
Premium Designs < 1 Rupee