READYMADE HAPPY GLOBAL FAMILY DAY POST
Celebrated every year on January 1, Global Family Day starts the new year with a positive message of unity to the world. Yes, believe it or not, we are all one! Cultures and religions across the world may be different, but the truth is all of mankind is a large family that can survive and succeed only if united. And yes, this goal can be achieved — all that is required is spreading the message of peace and unity.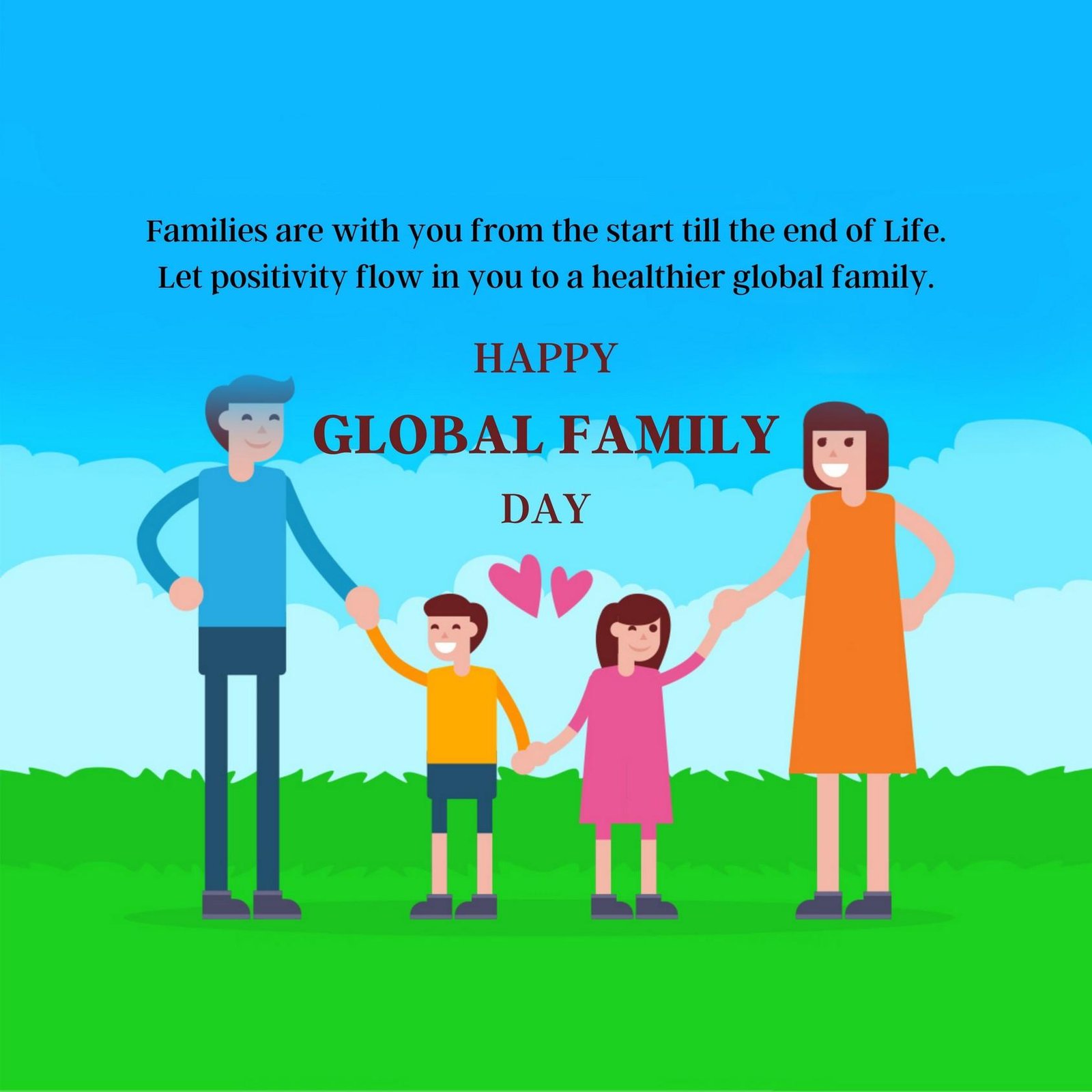 HISTORY OF HAPPY GLOBAL FAMILY DAY
Global Family Day, also known as World Peace Day, is celebrated yearly to promote the concept of harmony and unity in the world. Furthermore, it emphasizes the idea of the world as a global village in which we are all family, regardless of citizenship, borders, or race.
It all started in 1997 when the United Nations General Assembly launched the International Decade for the Culture of Peace and Non-Violence for the Children of the World — on the first day of the new millennium. Linda Grover was a key figure in promoting this in the U.S.; other efforts included books such as "One Day in Peace – January 1, 2000". This book revolves around a day in the future when there is only peace and no war.
However, this was just the beginning of a new peaceful world. In 1999, all U.N. member states were invited to formally dedicate the first day of that particular year to develop strategies toward peacebuilding. Seeing the positive impact of the day, Global Family Day was declared an annual event by the U.N. in 2001.
HOW TO CELEBRATE HAPPY GLOBAL FAMILY DAY?
Have a family dinner.
Gather your family around the table and enjoy a meal together. This is a great way to connect and reconnect with each other while sharing stories and having fun.
Do a service project.
Volunteer together in your community as a family. This is a great way to show your love and appreciation for others while also teaching your children the importance of giving back.
Write a family letter.
Each person can write a letter to their family members expressing their love and gratitude for them.
HAPPY GLOBAL FAMILY DAY DATES FOR THE UPCOMING 5 YEARS
| YEAR | DATE | DAY |
| --- | --- | --- |
| 2023 | 01 January | Sunday |
| 2024 | 01 January | Monday |
| 2025 | 01 January | Wednesday |
| 2026 | 01 January | Thursday |
| 2027 | 01 January | Friday |
DOWNLOAD YOUR POST IN JUST A FEW CLICKS

LOGIN
First, log in with your mobile no. and fill in your profile

SELECT CATEGORY
Select your category from 150+ business category

GET STARTED
Now, You are ready to download Your Post.
WHY CHOOSE PICWALE?
Do you still send wishes (posts) sent by someone else to your friends and customers? Or do you download from Google and send greetings to your friends and customers? Do you still take screenshots of other people's WhatsApp status?
chaiwale, juicewale at most, shares the same post sent by someone else because he does not know how to edit / design photos.
One thing is clear from all these things in Today's world branding is very important. Because branding can give a new identity to your business, develop a good trust with customers and grow your business, everyone needs branding to increase their business. Whether it is chaiwale, juicewale, be it paanwale or foodwale.
High and low-class merchants hire agencies for branding, which is impossible for a lower-class trader (e.g.- chaiwale, paanwale, juicewale, salonwale, tailor). To fulfill this need, we have brought "picwale" app for you so that now you can also send wishes to your friends and customers without any design skills. Just one app, one-time profiling, and getting 100% readymade posts for social channels, WhatsApp status, Instagram reels, etc.
Whether you are a small business or a medium business person, whether you are a juice wale, chai wale, or a farmer, it is not necessary that you should have design skills to create a post. From Now, You can create a post for your business on the Picwale app in just a few clicks. We have allowed the same design to be made in different languages and ratios.
Picwale App fulfills your requirement for WhatsApp Status, Instagram Reels, Facebook Stories, Snapchat Post, Pinterest Post, LinkedIn Post, etc. You can download posts for all these platforms in just a few clicks.
You can share birthday wishes, congratulations, event posts, and brand posts with your friends, customers, and relatives, and that too in your own language.
OUR APP FEATURES
EASIEST INTERFACE

Shortlist/Reminder Designs
Multiple Language/Ratio
No Ads & Watch Credit
BIGGEST DATABASE

Royalty-Free Images
No Attribution Required
Adding 100 New Designs Per Day
LOWEST PRICING

120 Designs Free
Blank Image Download
Premium Designs < 1 Rupee