READYMADE HAPPY MOTHER'S DAY POST
The day is here once more: Mother's Day, a day to honor, celebrate, and express our heartfelt gratitude for the extraordinary women who have played the pivotal role of 'mother' in our lives. From the cradle to the cosmos, a mother's love remains as constant as the northern star, guiding us through the stormy seas of life. A mother's love is an unwritten symphony. It is a melody that hums in the quiet moments and crescendos in the times of celebration. It's a rhythm that beats in sync with our hearts, a harmony that echoes in the halls of our memories. Today, we pause to listen to this symphony, to appreciate its beauty, and to celebrate the conductors—our mothers.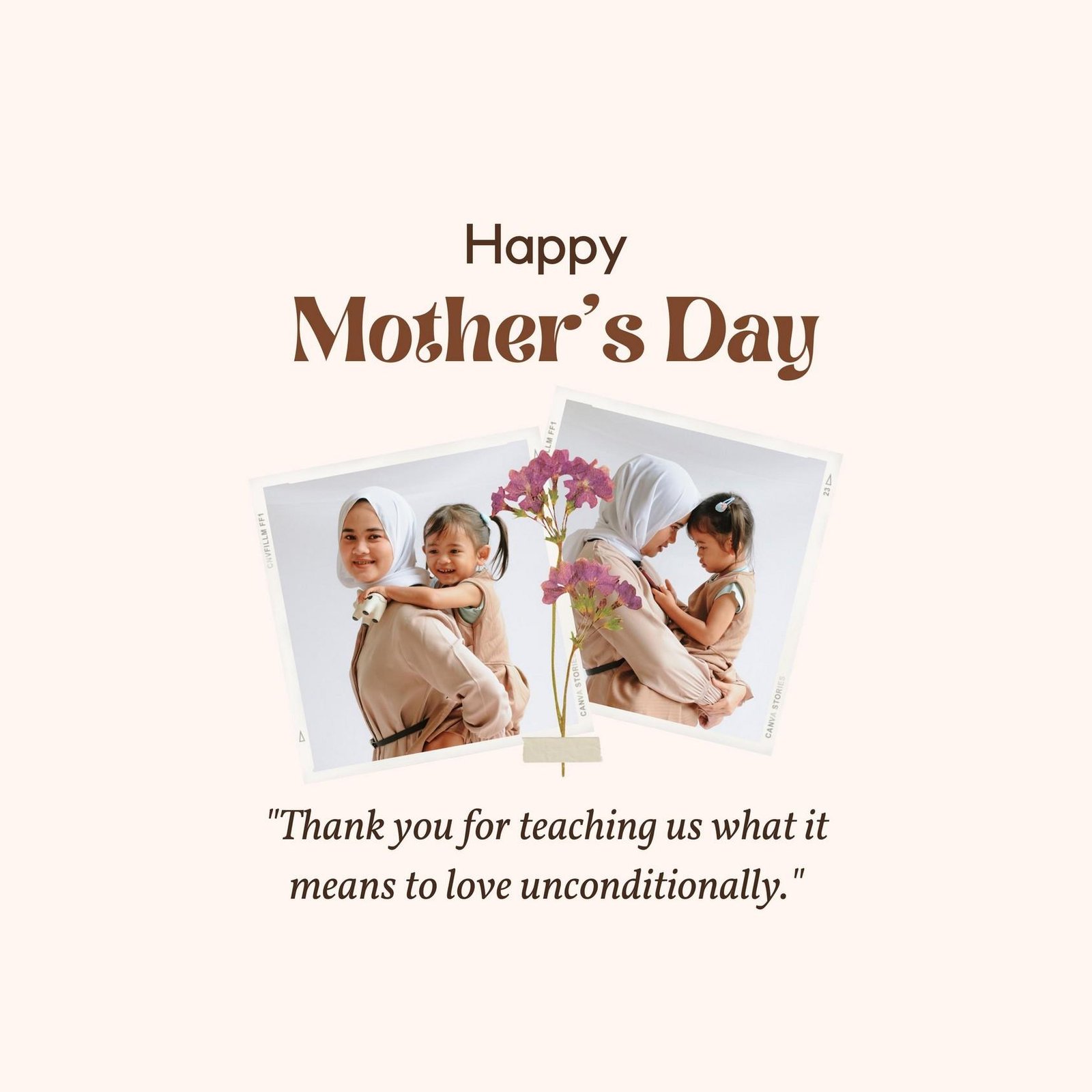 HISTORY OF MOTHER'S DAY
The earliest known precursor to Mother's Day dates back to ancient Greece. The Greeks worshipped maternal goddesses during annual spring festivals, with Rhea, the mother of many deities in Greek mythology, being one of the most notable figures celebrated. In ancient Rome, a similar celebration known as the Matronalia was observed. This holiday was dedicated to Juno, the goddess of childbirth, and mothers in general. Women received gifts from their families, and a feast was held in their honor.
In the United States, the establishment of Mother's Day is largely attributed to two women: Ann Reeves Jarvis and her daughter, Anna Jarvis. Ann Reeves Jarvis organized "Mother's Day Work Clubs" in the mid-19th century to improve sanitary conditions and reduce infant mortality. Later, she initiated "Mother's Friendship Day" to promote reconciliation between Union and Confederate soldiers after the Civil War.
Her daughter, Anna Jarvis, was inspired to create a day to honor mothers after her own mother's death in 1905. Anna's intention was to recognize the sacrifices mothers make for their children. She embarked on a fierce campaign, writing countless letters to influential figures to gain support for her cause.
HOW TO CELEBRATE MOTHER'S DAY
Homemade Breakfast:
Start the day by surprising your mom with a homemade breakfast. Even if you're not a pro in the kitchen, something as simple as toast with butter and jam, a bowl of her favorite fruit, or a cup of hot coffee can warm her heart. The key is to show your effort and love.
Handwritten Letter:
In this digital era, handwritten letters hold a special place. Pour your heart out in a letter, expressing your gratitude, love, and admiration for her. This personal touch can make her day special and memorable.
Plan a Day Out:
Plan a day out according to her preferences. It could be a visit to a museum, a stroll in the park, a picnic, or even a day at her favorite shopping mall. The idea is to spend quality time together.
HAPPY MOTHER'S DAY FOR THE UPCOMING 5 YEARS
| YEAR | DATE | DAY |
| --- | --- | --- |
| 2023 | 14 May | Sunday |
| 2024 | 12 May | Sunday |
| 2025 | 11 May | Sunday |
| 2026 | 10 May | Sunday |
| 2027 | 09 May | Sunday |
DOWNLOAD YOUR POST IN JUST A FEW CLICKS

LOGIN
First, log in with your mobile no. and fill in your profile

SELECT CATEGORY
Select your category from 150+ business category

GET STARTED
Now, You are ready to download Your Post.
WHY CHOOSE PICWALE?
Do you still send wishes (posts) sent by someone else to your friends and customers? Or do you download from Google and send greetings to your friends and customers? Do you still take screenshots of other people's WhatsApp status?
chaiwale, juicewale at most, shares the same post sent by someone else because he does not know how to edit / design photos.
One thing is clear from all these things in Today's world branding is very important. Because branding can give a new identity to your business, develop a good trust with customers and grow your business, everyone needs branding to increase their business. Whether it is chaiwale, juicewale, be it paanwale or foodwale.
High and low-class merchants hire agencies for branding, which is impossible for a lower-class trader (e.g.- chaiwale, paanwale, juicewale, salonwale, tailor). To fulfill this need, we have brought "picwale" app for you so that now you can also send wishes to your friends and customers without any design skills. Just one app, one-time profiling, and getting 100% readymade posts for social channels, WhatsApp status, Instagram reels, etc.
Whether you are a small business or a medium business person, whether you are a juice wale, chai wale, or a farmer, it is not necessary that you should have design skills to create a post. From Now, You can create a post for your business on the Picwale app in just a few clicks. We have allowed the same design to be made in different languages and ratios.
Picwale App fulfills your requirement for WhatsApp Status, Instagram Reels, Facebook Stories, Snapchat Post, Pinterest Post, LinkedIn Post, etc. You can download posts for all these platforms in just a few clicks.
You can share birthday wishes, congratulations, event posts, and brand posts with your friends, customers, and relatives, and that too in your own language.
OUR APP FEATURES
EASIEST INTERFACE

Shortlist/Reminder Designs
Multiple Language/Ratio
No Ads & Watch Credit
BIGGEST DATABASE

Royalty-Free Images
No Attribution Required
Adding 100 New Designs Per Day
LOWEST PRICING

120 Designs Free
Blank Image Download
Premium Designs < 1 Rupee