READYMADE HUMAN RIGHTS DAY POST
Human Rights Day on December 10 remembers the day the General Assembly of the UN adopted and proclaimed the Universal Declaration of Human Rights in 1948. It has inspired countries and people to start treating every person with the right to life, liberty, property, and the pursuit of happiness. On Human Rights Day, we acknowledge the importance of this document and the importance of human rights.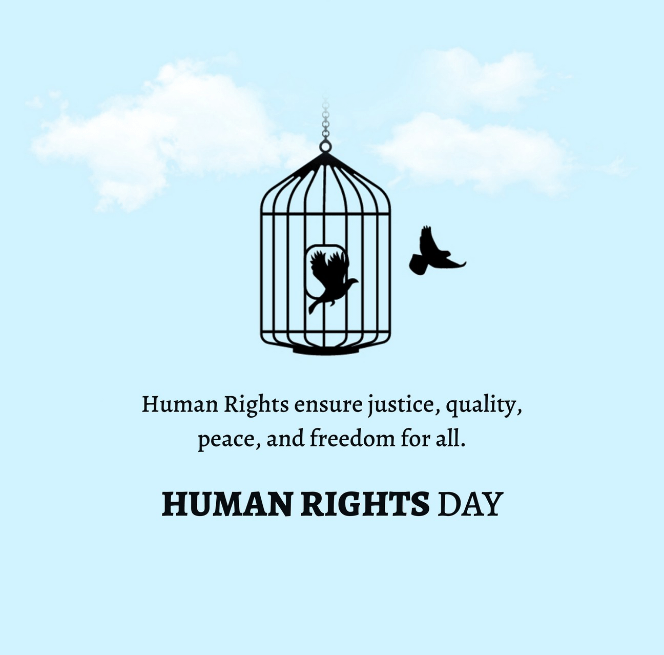 HISTORY OF HUMAN RIGHTS DAY
Human Rights Day was the anniversary of the day in 1948 when the United Nations General Assembly adopted the Universal Declaration of Human Rights. The day's popularity is perhaps best demonstrated by the commemorative stamp that the United Nations Postal Administration issued in 1952, which received over 200,000 advanced orders.
The aim of the Declaration of Human Rights is to establish a common standard of living for all people across the planet that everyone is entitled to and to, in turn, encourage all UN member states to strive towards the said standard of living for the people in their nation.
Although the rights are seen as more declarative than legally binding, they are commonly acknowledged to have had an impact on how human rights are perceived and to be a force for good.
Nowadays, a different theme is selected for Human Rights Day each year. In 2014 the theme was "Every Day is Human Rights Day," and in 2016, it was "Stand up for someone's rights today." We should remember our human rights every day. Still, on December 10, we should not forget them just a little bit more and embrace everyone around us as equals.
WHY IS HUMAN RIGHTS DAY IMPORTANT?
People deserve to be treated fairly, with dignity, and with respect.
We are all born equal and should be treated as such. Every person deserves a set of rights by which they can live their life as they choose and without being oppressed, suppressed, or owned by someone else.
It reminds us how far we have come.
Whilst there is still definitely a long way to go, we should take a moment to acknowledge that progress is being made, and the world is a better and fairer place for more people than it was a few hundred years ago. Let's acknowledge that and then crack on with the improvements that still need to be made.
It promotes unity.
The Declaration of Human Rights was agreed upon by 48 member states when it was first created. That's 48 countries sharing a common belief that life should be and can be better for everyone.
HUMAN RIGHTS DAY DATES FOR THE UPCOMING 5 YEARS
| YEAR | DATE | DAY |
| --- | --- | --- |
| 2022 | 10 December | Saturday |
| 2023 | 10 December | Sunday |
| 2024 | 10 Decemberr | Tuesday |
| 2025 | 10 December | Wednesday |
| 2026 | 10 December | Thursday |
DOWNLOAD YOUR POST IN JUST A FEW CLICKS

LOGIN
First, log in with your mobile no. and fill in your profile

SELECT CATEGORY
Select your category from 150+ business category

GET STARTED
Now, You are ready to download Your Post.
WHY CHOOSE PICWALE?
Do you still send wishes (posts) sent by someone else to your friends and customers? Or do you download from Google and send greetings to your friends and customers? Do you still take screenshots of other people's WhatsApp status?
chaiwale, juicewale at most, shares the same post sent by someone else because he does not know how to edit / design photos.
One thing is clear from all these things in Today's world branding is very important. Because branding can give a new identity to your business, develop a good trust with customers and grow your business, everyone needs branding to increase their business. Whether it is chaiwale, juicewale, be it paanwale or foodwale.
High and low-class merchants hire agencies for branding, which is impossible for a lower-class trader (e.g.- chaiwale, paanwale, juicewale, salonwale, tailor). To fulfill this need, we have brought "picwale" app for you so that now you can also send wishes to your friends and customers without any design skills. Just one app, one-time profiling, and getting 100% readymade posts for social channels, WhatsApp status, Instagram reels, etc.
Whether you are a small business or a medium business person, whether you are a juice wale, chai wale, or a farmer, it is not necessary that you should have design skills to create a post. From Now, You can create a post for your business on the Picwale app in just a few clicks. We have allowed the same design to be made in different languages and ratios.
Picwale App fulfills your requirement for WhatsApp Status, Instagram Reels, Facebook Stories, Snapchat Post, Pinterest Post, LinkedIn Post, etc. You can download posts for all these platforms in just a few clicks.
You can share birthday wishes, congratulations, event posts, and brand posts with your friends, customers, and relatives, and that too in your own language.
OUR APP FEATURES
EASIEST INTERFACE

Shortlist/Reminder Designs
Multiple Language/Ratio
No Ads & Watch Credit
BIGGEST DATABASE

Royalty-Free Images
No Attribution Required
Adding 100 New Designs Per Day
LOWEST PRICING

120 Designs Free
Blank Image Download
Premium Designs < 1 Rupee