READYMADE INDIAN AIR FORCE DAY POST
Every October 8, Indian Air Force Day is celebrated to pay tribute to the Air Force of India and acknowledge the excellence the country has presented in the field. Founded on October 8, 1932, the force has been a part of several landmark missions that have led to the nation's success. These historic air force battles have also built the reputation of India as a country that is strong on the battlefield and possesses the force required to protect its nation. This year, honor India's aviation industry and the air force personnel who have spent years ensuring the state's safety.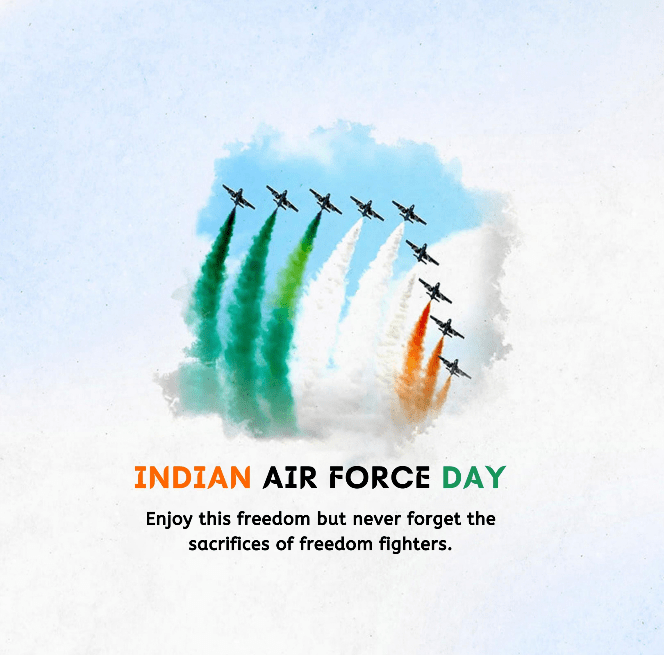 HISTORY OF INDIAN AIR FORCE DAY
Like every air force in the world, it took the Indian Air Force a lot of practice to excel on the battlefield. However, the resilience of the officers ensured that the force attained success and became one of the strongest in the world. When the Indian Air Force was officially established, it possessed a strength of six RAF-trained officers and 19 air soldiers. Their inventory contained four Westland Wapiti IIA army cooperation biplanes. Compared to dozens of other countries' strong air forces, this wasn't much. However, after a little over four years, a flight took off toward North Waziristan to support the Indian Army against insurgent Bhittani tribe members. A "B" Flight was formed in April 1936 on the vintage Wapiti, and in 1938, a "C" Flight was raised to bring the No. 1 Squadron ostensibly to full strength. By World War II, the power of the Indian Air Force had significantly risen.
After 1941, a training structure in India became critical for the force, and the RAF (Royal Air Force) flying instructors were assigned to flying clubs to train volunteers and interested individuals. The training was given at seven clubs in British India and two in various princely States. All these measures took place after issues concerning the defense of India were reassessed in 1939 by the Chatfield Committee. However, after years of training and the government giving extra attention to the air force, the squadrons emerged as one of the best flyers in the world.
HOW TO CELEBRATE INDIAN AIR FORCE DAY
1. Visit a parade
To see the air force in action, visit a parade, and you will be left in awe at the skills of the Indian Air Force and the planes they fly to protect the nation.
2. Compose a song for the air force
Are you the talented sort who can write well? This is the perfect day to show your love for the country by composing a song for the air force.
3. Discuss the history
Use this day to educate youngsters regarding the history of the air force and the wars they have fought for the country.
WHY INDIAN AIR FORCE DAY IS IMPORTANT
1. It's patriotic
The day itself spreads love for India and the efforts and sacrifices made by the armed forces. It also encourages youngsters to dream of being a part of the force.
2. It's a historical reminder.
The day serves as a reminder of history and speaks of several events that required the help of the air force. Therefore, the day is educational.
3. It unites the country.
On this day, the nation gathers to pay tribute to the air force regardless of social class or gender.
INDIAN AIR FORCE DAY DATES
| YEAR | DATE | DAY |
| --- | --- | --- |
| 2022 | 08 October | Saturday |
| 2023 | 08 October | Sunday |
| 2024 | 08 October | Tuesday |
| 2025 | 08 October | Wednesday |
| 2026 | 08 October | Thursday |
CAN I CREATE A POST WITHOUT KNOWING DESIGN SKILLS?
Whether you are a small business or a medium business person, whether you are a juice wale, chai wale, or a bakery wale, it is not necessary that you should have design skills to create a post. From Now, You can create a post for your business on the Picwale app in just a few clicks. We have allowed the same design to be made in different languages and ratios.
THE IMPORTANCE OF SOCIAL SHARING IN BUSINESS
The importance of social sharing in business cannot be emphasized enough. The benefits are numerous, and the results demonstrate enormous potential for social media marketing to increase sales. Social media is the most cost-effective tool for sharing content and increasing the visibility of your business. Social media allows businesses to form consumer relationships, build trust, share content, and network with other businesses. Below we look at the importance of social sharing in business and how it can be beneficial.
INCREASED BRAND RECOGNITION
Social media is an excellent way to introduce large audiences of people to your brand. Increased visibility through social media is invaluable, making your brand recognizable and more accessible to new customers. It also allows you to be transparent with potential customers, building relationships and your reputation as a trustworthy business.
PROMOTION
With the help of social media, you can share your content faster and easier than ever before. In just a few clicks, you could have an article or image uploaded that has the potential to be viewed by thousands of people. All you need to do is share your content and add a call to action, encouraging potential customers to get in touch with your company if they want to know more.
Each post you share will be introduced to a new network of individuals, and the more people who know about your business, your ethos and what you offer, the better.
BUILDING LINKS
Using social media together with your content marketing helps you gain and build links organically. As you develop your social media following, you build up a large following of people that can share your content. Every piece of content that hits your website should immediately be shared on your social profiles. Social media is a beautiful way to help enhance your search engine rankings. The days of shortcuts are over, and it's time to get involved and get social.
INCREASE SALES
One of the most significant benefits of social media marketing is the ability to target selected audiences. Social media gives you a great platform to act as an opportunist, increasing your sales social media by working on becoming an engaging brand. Ultimately, you want to develop interest through shared content, interaction with followers, developing relationships, and gaining a following. If you do these things, you will see a long-term increase in your sales.
DOWNLOAD YOUR POST IN JUST A FEW CLICKS

LOGIN
First, log in with your mobile no. and fill in your profile

SELECT CATEGORY
Select your category from 150+ business category

GET STARTED
Now, You are ready to download Your Post.
WHY CHOOSE PICWALE?
Do you still send wishes (posts) sent by someone else to your friends and customers? Or do you download from Google and send greetings to your friends and customers? Do you still take screenshots of other people's WhatsApp status?
chaiwale, juicewale at most, shares the same post sent by someone else because he does not know how to edit / design photos.
One thing is clear from all these things in Today's world branding is very important. Because branding can give a new identity to your business, develop a good trust with customers and grow your business, everyone needs branding to increase their business. Whether it is chaiwale, juicewale, be it paanwale or foodwale.
High and low-class merchants hire agencies for branding, which is impossible for a lower-class trader (e.g.- chaiwale, paanwale, juicewale, salonwale, tailor). To fulfill this need, we have brought "picwale" app for you so that now you can also send wishes to your friends and customers without any design skills. Just one app, one-time profiling, and getting 100% readymade posts for social channels, WhatsApp status, Instagram reels, etc.
Whether you are a small business or a medium business person, whether you are a juice wale, chai wale, or a farmer, it is not necessary that you should have design skills to create a post. From Now, You can create a post for your business on the Picwale app in just a few clicks. We have allowed the same design to be made in different languages and ratios.
Picwale App fulfills your requirement for WhatsApp Status, Instagram Reels, Facebook Stories, Snapchat Post, Pinterest Post, LinkedIn Post, etc. You can download posts for all these platforms in just a few clicks.
You can share birthday wishes, congratulations, event posts, and brand posts with your friends, customers, and relatives, and that too in your own language.
OUR APP FEATURES
EASIEST INTERFACE

Shortlist/Reminder Designs
Multiple Language/Ratio
No Ads & Watch Credit
BIGGEST DATABASE

Royalty-Free Images
No Attribution Required
Adding 100 New Designs Per Day
LOWEST PRICING

120 Designs Free
Blank Image Download
Premium Designs < 1 Rupee