READYMADE INTERNATIONAL ANTI-CORRUPTION DAY POST
International Anti-Corruption Day is observed on December 9 every year. It serves as a reminder for each of us to actively speak out and fight against corruption in our lives and the lives of others. The United Nations has declared this day to bring attention to the need to adopt an anti-corruption stance.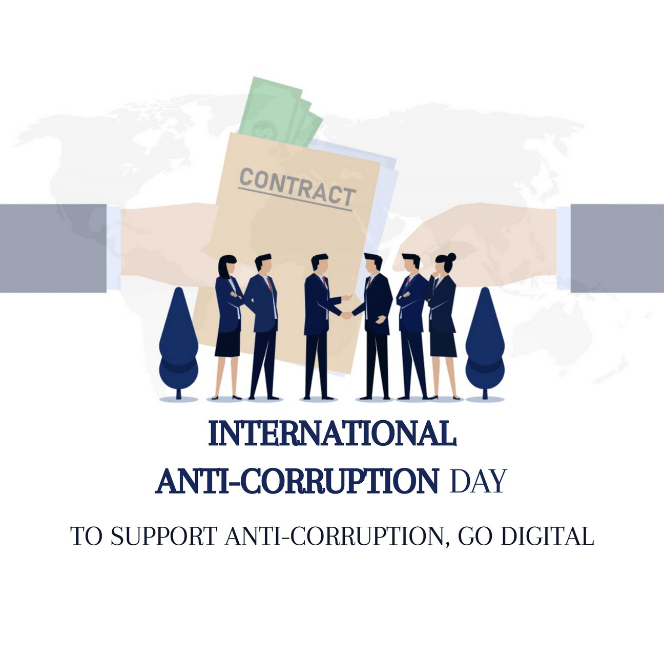 HISTORY OF INTERNATIONAL ANTI-CORRUPTION DAY
Corruption has existed from time immemorial. Some of the earliest records of anti-corruption texts can be found in the Code of Hammurabi of Babylonia, the Great Edict of Horemheb in Egypt, and Arthashastra in India. These texts spoke about bribery practices among officers of the state and law. The concept of public interest and welfare began to gain a stronghold in Western society in the 19th century and more attention was paid to the rising corruption in professional services like the bureaucracy. Corruption was beginning to be understood not just as an unwanted practice but as a practice levying a great cost to society.
Today, Transparency International is one of the most well-known organizational faces tackling corruption in countries all over the world. It was founded by Peter Eigen, a World Bank official who had witnessed the negative impact of corruption in East Africa and decided to start a nonprofit to shed more light on the issue. The secretariat was set up in Berlin in 1993. It currently hosts the International Anti-Corruption Conference every two years to convene civil society, bureaucrats, nonprofits, and political leaders around special, cross-cutting challenges posed by corruption.
Transparency International also developed the Corruption Perception Index in 1995 to measure corruption across sectors and practices in various countries and rank them comparatively. The index now collects data from 180 countries. Organizations like the World Bank also capture corruption data through their Worldwide Governance Indicators.
WHY IS INTERNATIONAL ANTI-CORRUPTION DAY IMPORTANT?
It reminds us of corruption.
Many of us have faced some form of corruption in our dealings with businesses or the government. Still, we may have discounted the significance of it to "get things done". This day reminds us that we don't have to accept these practices and can speak out against them.
It is a call to action.
The UN and other bodies have compiled resources that make us more aware of the extent of corruption worldwide, and they tell us how to take steps to eliminate it.
It highlights the importance of ethics.
While we have been taught ethical conduct from childhood, we may have forgotten about them in the daily grind and hustle. This is the time to reopen and even relearn those lessons to guide our own conduct.
INTERNATIONAL ANTI-CORRUPTION DAY DATES FOR THE UPCOMING 5 YEARS
| YEAR | DATE | DAY |
| --- | --- | --- |
| 2022 | 09 December | Friday |
| 2023 | 09 December | Saturday |
| 2024 | 09 December | Monday |
| 2025 | 09 December | Tuesday |
| 2026 | 09 December | Wednesday |
DOWNLOAD YOUR POST IN JUST A FEW CLICKS

LOGIN
First, log in with your mobile no. and fill in your profile

SELECT CATEGORY
Select your category from 150+ business category

GET STARTED
Now, You are ready to download Your Post.
WHY CHOOSE PICWALE?
Do you still send wishes (posts) sent by someone else to your friends and customers? Or do you download from Google and send greetings to your friends and customers? Do you still take screenshots of other people's WhatsApp status?
chaiwale, juicewale at most, shares the same post sent by someone else because he does not know how to edit / design photos.
One thing is clear from all these things in Today's world branding is very important. Because branding can give a new identity to your business, develop a good trust with customers and grow your business, everyone needs branding to increase their business. Whether it is chaiwale, juicewale, be it paanwale or foodwale.
High and low-class merchants hire agencies for branding, which is impossible for a lower-class trader (e.g.- chaiwale, paanwale, juicewale, salonwale, tailor). To fulfill this need, we have brought "picwale" app for you so that now you can also send wishes to your friends and customers without any design skills. Just one app, one-time profiling, and getting 100% readymade posts for social channels, WhatsApp status, Instagram reels, etc.
Whether you are a small business or a medium business person, whether you are a juice wale, chai wale, or a farmer, it is not necessary that you should have design skills to create a post. From Now, You can create a post for your business on the Picwale app in just a few clicks. We have allowed the same design to be made in different languages and ratios.
Picwale App fulfills your requirement for WhatsApp Status, Instagram Reels, Facebook Stories, Snapchat Post, Pinterest Post, LinkedIn Post, etc. You can download posts for all these platforms in just a few clicks.
You can share birthday wishes, congratulations, event posts, and brand posts with your friends, customers, and relatives, and that too in your own language.
OUR APP FEATURES
EASIEST INTERFACE

Shortlist/Reminder Designs
Multiple Language/Ratio
No Ads & Watch Credit
BIGGEST DATABASE

Royalty-Free Images
No Attribution Required
Adding 100 New Designs Per Day
LOWEST PRICING

120 Designs Free
Blank Image Download
Premium Designs < 1 Rupee