READYMADE INTERNATIONAL DANCE DAY POST
Every year on April 29th, the world comes together to celebrate International Dance Day. This special occasion is dedicated to honoring the art of dance as well as the impact it has on people and cultures around the globe. From ancient rituals to modern performances, dance is a universal language that transcends barriers and connects us all. The origins of International Dance Day can be traced back to 1982, when the International Theatre Institute (ITI) established the event in honor of Jean-Georges Noverre, a French choreographer often referred to as the "father of modern ballet." By setting the date on his birthday, the ITI aimed to promote the significance of dance and its diverse forms.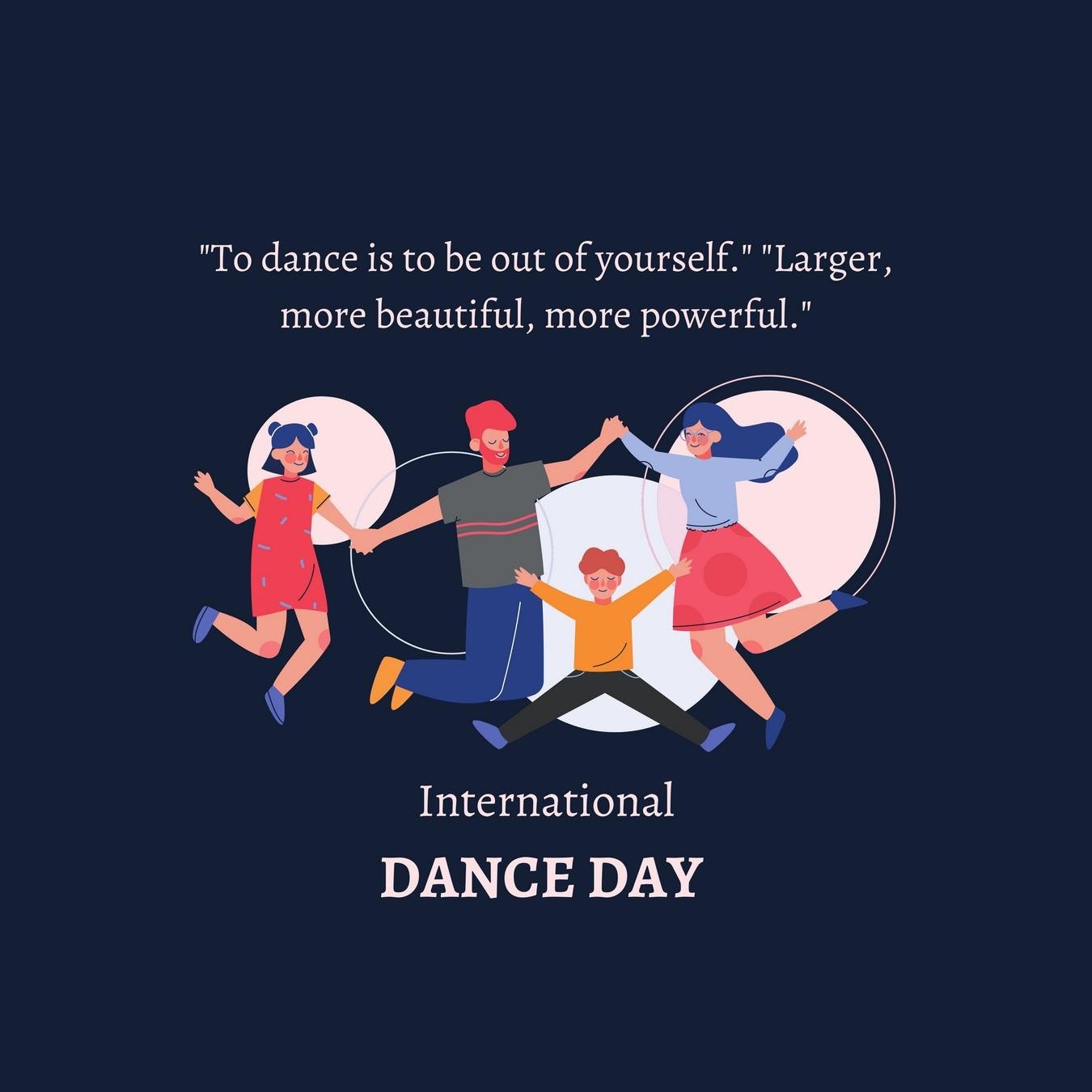 HISTORY OF INTERNATIONAL DANCE DAY
International Dance Day, observed every year on April 29th, is a global celebration that honors the beauty and universality of dance. This special day promotes dance as a form of artistic expression, communication, and social cohesion. The origins of International Dance Day can be traced back to the 1980s, when the International Dance Committee of the International Theatre Institute (ITI), an organization affiliated with UNESCO, established the event.
The date, April 29th, was chosen to commemorate the birthday of Jean-Georges Noverre (1727–1810), a French ballet master widely regarded as the creator of modern ballet. Noverre's innovations in the art of dance aimed to convey emotions and tell stories through movement, breaking away from the rigid and formulaic conventions of the time.
Since its inception, International Dance Day has grown in popularity and reach as dance enthusiasts and organizations worldwide have joined in the festivities. Every year, the ITI selects a prominent personality from the world of dance to write a message that is then translated and shared globally. The message often reflects the importance of dance in transcending cultural barriers and fostering unity among people.
HOW TO CELEBRATE INTERNATIONAL DANCE DAY
Attend a Dance Workshop:
Search for local dance workshops or classes being held on International Dance Day. Many studios and organizations offer free or discounted classes in various dance styles. Participate in a workshop to learn a new dance style, improve your skills, or simply enjoy the experience of dancing with others.
Host a Dance Party:
Invite friends, family, or colleagues to a dance party at your home, a community center, or even virtually. Create a diverse playlist of music from different cultures and genres, encouraging everyone to showcase their favorite dance moves and learn from each other.
Support Dance Organizations:
Donate to local or international dance organizations that promote dance education and opportunities for underprivileged communities. Your contributions can help ensure that more people have access to the transformative power of dance.
INTERNATIONAL DANCE DAY FOR THE UPCOMING 5 YEARS
| YEAR | DATE | DAY |
| --- | --- | --- |
| 2023 | 29 April | Saturday |
| 2024 | 29 April | Monday |
| 2025 | 29 April | Tuesday |
| 2026 | 29 April | Wednesday |
| 2027 | 29 April | Thursday |
DOWNLOAD YOUR POST IN JUST A FEW CLICKS

LOGIN
First, log in with your mobile no. and fill in your profile

SELECT CATEGORY
Select your category from 150+ business category

GET STARTED
Now, You are ready to download Your Post.
WHY CHOOSE PICWALE?
Do you still send wishes (posts) sent by someone else to your friends and customers? Or do you download from Google and send greetings to your friends and customers? Do you still take screenshots of other people's WhatsApp status?
chaiwale, juicewale at most, shares the same post sent by someone else because he does not know how to edit / design photos.
One thing is clear from all these things in Today's world branding is very important. Because branding can give a new identity to your business, develop a good trust with customers and grow your business, everyone needs branding to increase their business. Whether it is chaiwale, juicewale, be it paanwale or foodwale.
High and low-class merchants hire agencies for branding, which is impossible for a lower-class trader (e.g.- chaiwale, paanwale, juicewale, salonwale, tailor). To fulfill this need, we have brought "picwale" app for you so that now you can also send wishes to your friends and customers without any design skills. Just one app, one-time profiling, and getting 100% readymade posts for social channels, WhatsApp status, Instagram reels, etc.
Whether you are a small business or a medium business person, whether you are a juice wale, chai wale, or a farmer, it is not necessary that you should have design skills to create a post. From Now, You can create a post for your business on the Picwale app in just a few clicks. We have allowed the same design to be made in different languages and ratios.
Picwale App fulfills your requirement for WhatsApp Status, Instagram Reels, Facebook Stories, Snapchat Post, Pinterest Post, LinkedIn Post, etc. You can download posts for all these platforms in just a few clicks.
You can share birthday wishes, congratulations, event posts, and brand posts with your friends, customers, and relatives, and that too in your own language.
OUR APP FEATURES
EASIEST INTERFACE

Shortlist/Reminder Designs
Multiple Language/Ratio
No Ads & Watch Credit
BIGGEST DATABASE

Royalty-Free Images
No Attribution Required
Adding 100 New Designs Per Day
LOWEST PRICING

120 Designs Free
Blank Image Download
Premium Designs < 1 Rupee