READYMADE KALPANA CHAWLA BIRTH ANNIVERSARY POST
On March 17th, we celebrate the birth anniversary of Kalpana Chawla, the first Indian woman to go to space. Kalpana Chawla was an inspiration to us all, and her legacy will live on forever. She was a brilliant scientist and astronaut whose courage and determination inspired millions of people around the world. On this day, let us remember her incredible achievements and be inspired to reach for the stars.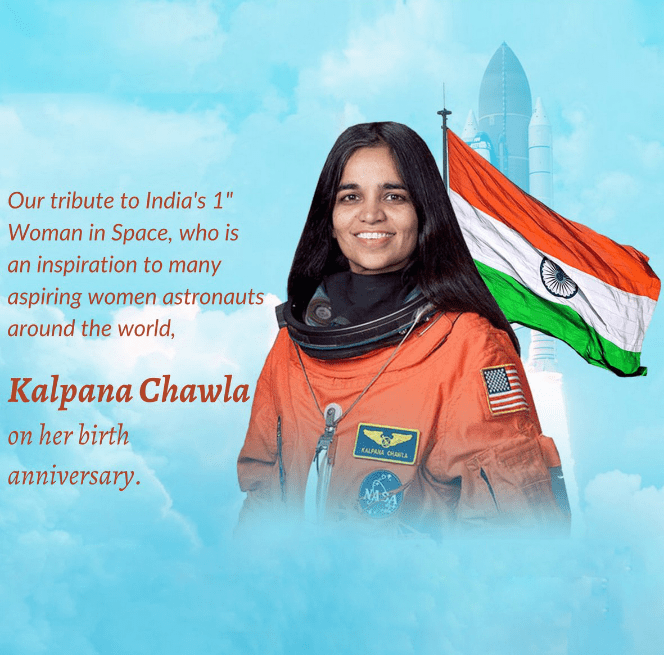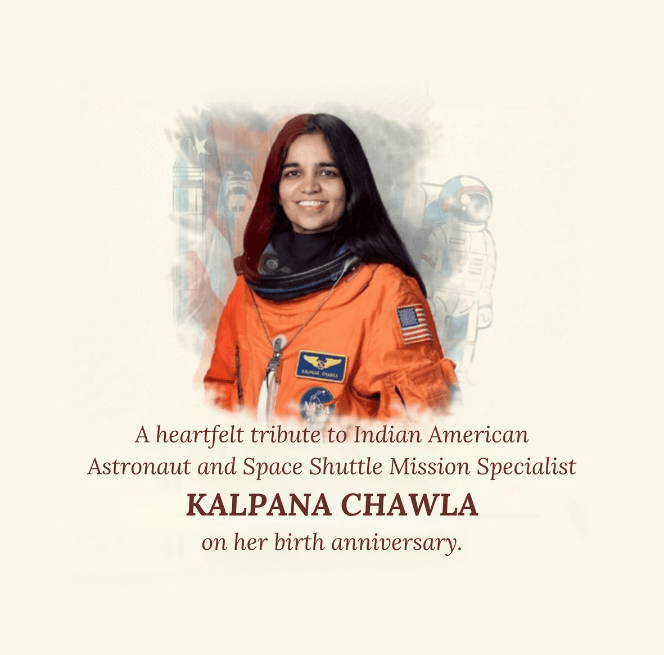 HISTORY OF KALPANA CHAWLA
Kalpana Chawla was an Indian American astronaut and the first woman of Indian origin in space. She first flew on the Space Shuttle Columbia in 1997 as a mission specialist and primary robotic arm operator. In 2003, Chawla was one of the seven crew members who died in the Space Shuttle Columbia disaster when the spacecraft disintegrated during its re-entry into the Earth's atmosphere.
Chawla was born in Karnal, India, in 1961. She completed her undergraduate studies in aeronautical engineering at Punjab Engineering College in 1982 and then moved to the United States, where she earned her master's degree in aerospace engineering from the University of Texas in 1984. Chawla went on to pursue a doctorate in aerospace engineering from the University of Colorado in 1988, after which she began working as a research assistant at the NASA Ames Research Center.
Chawla was selected by NASA for the astronaut training programme in 1994. She completed her training in 1996 and was assigned to her first flight, STS-87, aboard the Space Shuttle Columbia in 1997. During the mission, Chawla conducted experiments in the pressurised Spacelab module, as well as two spacewalks.
For Chawla's second trip into space, STS-107, she was the mission specialist and the main person in charge of the robotic arm. The mission was dedicated to research and experiments in physical, life, and space sciences. On February 1, 2003, the Space Shuttle Columbia broke apart upon re-entry into the Earth's atmosphere, killing all seven crew members, including Chawla.
KALPANA CHAWLA BIRTH ANNIVERSARY FOR THE UPCOMING 5 YEARS
| YEAR | DATE | DAY |
| --- | --- | --- |
| 2023 | 17 March | Friday |
| 2024 | 17 March | Sunday |
| 2025 | 17 March | Monday |
| 2026 | 17 March | Tuesday |
| 2027 | 17 March | Wednesday |
DOWNLOAD YOUR POST IN JUST A FEW CLICKS

LOGIN
First, log in with your mobile no. and fill in your profile

SELECT CATEGORY
Select your category from 150+ business category

GET STARTED
Now, You are ready to download Your Post.
WHY CHOOSE PICWALE?
Do you still send wishes (posts) sent by someone else to your friends and customers? Or do you download from Google and send greetings to your friends and customers? Do you still take screenshots of other people's WhatsApp status?
chaiwale, juicewale at most, shares the same post sent by someone else because he does not know how to edit / design photos.
One thing is clear from all these things in Today's world branding is very important. Because branding can give a new identity to your business, develop a good trust with customers and grow your business, everyone needs branding to increase their business. Whether it is chaiwale, juicewale, be it paanwale or foodwale.
High and low-class merchants hire agencies for branding, which is impossible for a lower-class trader (e.g.- chaiwale, paanwale, juicewale, salonwale, tailor). To fulfill this need, we have brought "picwale" app for you so that now you can also send wishes to your friends and customers without any design skills. Just one app, one-time profiling, and getting 100% readymade posts for social channels, WhatsApp status, Instagram reels, etc.
Whether you are a small business or a medium business person, whether you are a juice wale, chai wale, or a farmer, it is not necessary that you should have design skills to create a post. From Now, You can create a post for your business on the Picwale app in just a few clicks. We have allowed the same design to be made in different languages and ratios.
Picwale App fulfills your requirement for WhatsApp Status, Instagram Reels, Facebook Stories, Snapchat Post, Pinterest Post, LinkedIn Post, etc. You can download posts for all these platforms in just a few clicks.
You can share birthday wishes, congratulations, event posts, and brand posts with your friends, customers, and relatives, and that too in your own language.
OUR APP FEATURES
EASIEST INTERFACE

Shortlist/Reminder Designs
Multiple Language/Ratio
No Ads & Watch Credit
BIGGEST DATABASE

Royalty-Free Images
No Attribution Required
Adding 100 New Designs Per Day
LOWEST PRICING

120 Designs Free
Blank Image Download
Premium Designs < 1 Rupee