READYMADE NATIONAL FARMER'S DAY POST
Every year, India observes Farmer's Day or Kisan Diwas on December 23. Farmers are the driving force of the country's economy and deserve to be honored. The Day also celebrates the birth of the fifth Prime Minister of India, Chaudhary Charan Singh, who started as a farmer before earning his seat in the government. This Day aims to promote awareness of the importance of farmers and their valuable contribution to the nation's overall social- and economic development.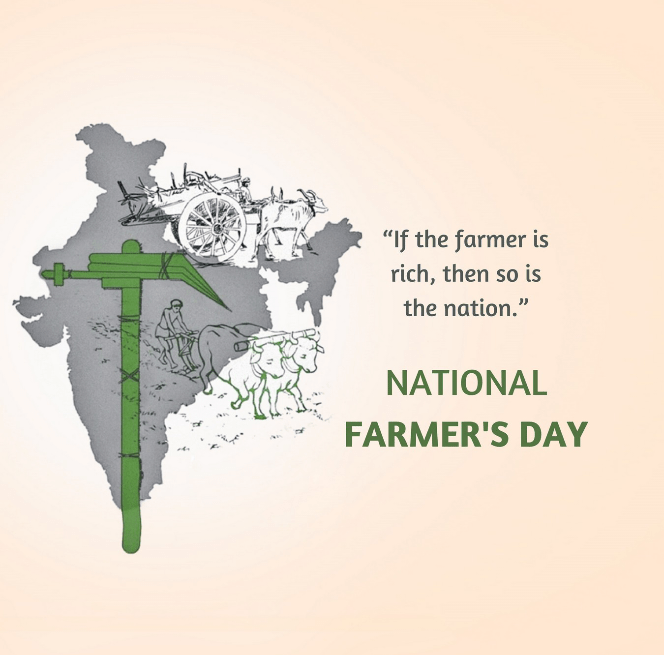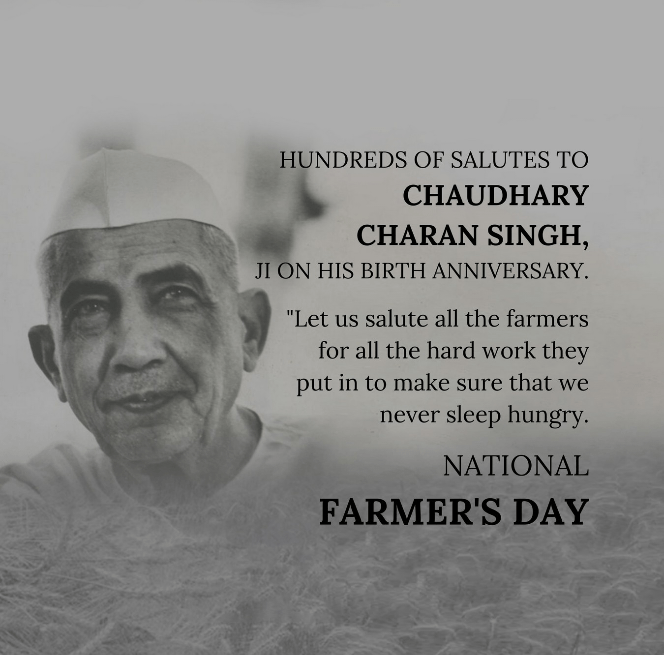 HISTORY OF NATIONAL FARMER'S DAY
Chaudhary Charan Singh is a remarkable testimony to the fact that, despite having humble beginnings and living a plain lifestyle, one can go on to do great things. Farmer's Day is celebrated on December 23 to honor the anniversary of this great man's birth.
India is primarily an agriculture-based country; the national economy and citizens of India heavily depend on farmers to sustain the country's development. It so happens that one of the great leaders in Indian history, Chaudhary Charan Singh, was himself from a small farmer's family in Uttar Pradesh. Singh went on to become India's fifth Prime Minister, setting a precedent for the reverence of farmers.
From pre-independence to post-independence, Singh played a key role in the shaping of India's agricultural sector by advocating and passing different bills for farmers' reforms. Taking over the seat of Prime Minister Morarji Desai after the demise of the Janata Party, Singh's tenure was from 1979 to 1980. During his short time as prime minister, Singh strived for the welfare and betterment of Indian farmers. Several schemes were introduced to elevate the social status of farmers.
For his exemplary work and journey from farmer to becoming head of state, the government of India decided, in the year 2001, to mark Singh's birth anniversary as the Day for celebrating Farmer's Day.
Annually, on this occasion, several programs are arranged across the country. These events have a significant impact on the farmer community and provide them with platforms for voicing their aspirations and demands. Agricultural scientists showcase the latest in technology and science to assist farmers in maximizing their output. The government also supports farmers by organizing various competitions in which the winners are awarded prizes.
HOW TO NATIONAL FARMER'S DAY CELEBRATED?
Visit a Farm
If you have a farm in your area, be sure to visit it. Thank your local farmers for their tireless efforts and dedication. If you can, take your kids along and make the trip an educational one.
Buy directly from a farmer.
Farmers are quite underpaid and most of the profits and gains from their products go to the sellers, corporations, and the government. Farmers or their families sometimes head to the city to sell their produce at markets, so they rather try to buy directly from them.
Plant some vegetables/fruit.
To make the Day a fun one, plant some seeds of your choice. It can be tomatoes, peas, berries, or whatever else you like. The fruits of your labor (pun intended) will be worth it!
NATIONAL FARMER'S DAY DATES FOR THE UPCOMING 5 YEARS
| YEAR | DATE | DAY |
| --- | --- | --- |
| 2022 | 23 December | Friday |
| 2023 | 23 December | Saturday |
| 2024 | 23 December | Monday |
| 2025 | 23 December | Tuesday |
| 2026 | 23 December | Wednesday |
DOWNLOAD YOUR POST IN JUST A FEW CLICKS

LOGIN
First, log in with your mobile no. and fill in your profile

SELECT CATEGORY
Select your category from 150+ business category

GET STARTED
Now, You are ready to download Your Post.
WHY CHOOSE PICWALE?
Do you still send wishes (posts) sent by someone else to your friends and customers? Or do you download from Google and send greetings to your friends and customers? Do you still take screenshots of other people's WhatsApp status?
chaiwale, juicewale at most, shares the same post sent by someone else because he does not know how to edit / design photos.
One thing is clear from all these things in Today's world branding is very important. Because branding can give a new identity to your business, develop a good trust with customers and grow your business, everyone needs branding to increase their business. Whether it is chaiwale, juicewale, be it paanwale or foodwale.
High and low-class merchants hire agencies for branding, which is impossible for a lower-class trader (e.g.- chaiwale, paanwale, juicewale, salonwale, tailor). To fulfill this need, we have brought "picwale" app for you so that now you can also send wishes to your friends and customers without any design skills. Just one app, one-time profiling, and getting 100% readymade posts for social channels, WhatsApp status, Instagram reels, etc.
Whether you are a small business or a medium business person, whether you are a juice wale, chai wale, or a farmer, it is not necessary that you should have design skills to create a post. From Now, You can create a post for your business on the Picwale app in just a few clicks. We have allowed the same design to be made in different languages and ratios.
Picwale App fulfills your requirement for WhatsApp Status, Instagram Reels, Facebook Stories, Snapchat Post, Pinterest Post, LinkedIn Post, etc. You can download posts for all these platforms in just a few clicks.
You can share birthday wishes, congratulations, event posts, and brand posts with your friends, customers, and relatives, and that too in your own language.
OUR APP FEATURES
EASIEST INTERFACE

Shortlist/Reminder Designs
Multiple Language/Ratio
No Ads & Watch Credit
BIGGEST DATABASE

Royalty-Free Images
No Attribution Required
Adding 100 New Designs Per Day
LOWEST PRICING

120 Designs Free
Blank Image Download
Premium Designs < 1 Rupee