READYMADE PARSHURAM JAYANTI POST
Parshuram Jayanti is a significant Hindu festival that commemorates the birth anniversary of Lord Parshuram, the sixth incarnation of Lord Vishnu. This auspicious day falls on the third day of the Shukla Paksha (the waxing phase of the moon) in the month of Vaishakh, according to the Hindu calendar. Devotees observe Parshuram Jayanti with great reverence and enthusiasm, honouring Lord Parshuram's wisdom, valour, and unwavering devotion to his dharma.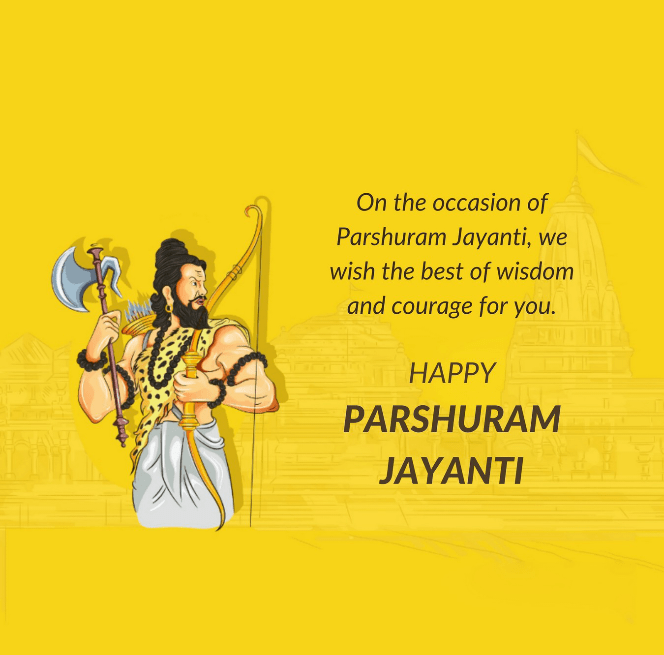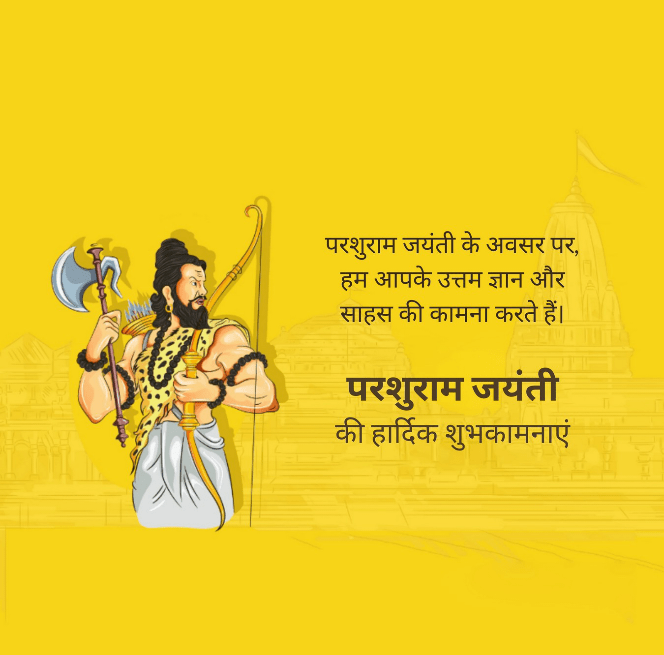 HISTORY OF PARSHURAM JAYANTI
Parshuram Jayanti is a significant Hindu festival that commemorates the birth anniversary of Lord Parshuram, the sixth avatar of Lord Vishnu. As per the Hindu calendar, the auspicious occasion is observed on the Tritiya (third day) of the Shukla Paksha in the month of Vaishakha, which usually falls in April or May.
Parshuram is known for his unwavering spirit, unwavering devotion to his parents, and exceptional combat abilities. He is believed to have gained his immense power and knowledge of weaponry from Lord Shiva. Parshuram is known for his strong sense of justice and his mission to eradicate the world of unrighteousness, especially by combating corrupt and tyrannical Kshatriya rulers.
One of the best-known stories of Parshuram is his encounter with the arrogant King Kartavirya Arjuna, who steals the divine cow Kamadhenu from Parshuram's father. In retaliation, Parshuram single-handedly confronts the king and his massive army, eventually killing Kartavirya Arjuna and avenging his father's loss.
Parshuram Jayanti is observed with great fervour by devotees across India, particularly in states like Gujarat, Rajasthan, Himachal Pradesh, and Haryana. On this day, devotees perform special prayers, rituals, and pujas dedicated to Lord Parshuram. Many people observe fasting and seek blessings for wisdom, strength, and a righteous path in life. The day also holds great significance for the Brahmin community, as they celebrate the legacy of this iconic figure in their lineage.
HOW TO CELEBRATE PARSHURAM JAYANTI
Visit a Temple:
Start the day by visiting a temple dedicated to Lord Parshuram or Lord Vishnu to seek blessings and pay homage. Offer prayers, light lamps, and participate in special rituals organized during Parshuram Jayanti.
Organize a Puja at Home:
Set up a small altar at home with an idol or image of Lord Parshuram. Perform a puja by offering flowers, incense, fruits, and sweets. Recite sacred mantras, such as the Vishnu Sahasranama, to invoke divine blessings.
Share Stories and Teachings:
Take time to share stories about Lord Parshuram with your family, especially children. Discuss his teachings of righteousness, valour, and wisdom, and explore how these values can be applied in your daily life.
PARSHURAM JAYANTI FOR THE UPCOMING 5 YEARS
| YEAR | DATE | DAY |
| --- | --- | --- |
| 2023 | 22 April | Saturday |
| 2024 | 10 May | Friday |
| 2025 | 29 April | Tuesday |
| 2026 | 19 April | Sunday |
| 2027 | 08 May | Saturday |
DOWNLOAD YOUR POST IN JUST A FEW CLICKS

LOGIN
First, log in with your mobile no. and fill in your profile

SELECT CATEGORY
Select your category from 150+ business category

GET STARTED
Now, You are ready to download Your Post.
WHY CHOOSE PICWALE?
Do you still send wishes (posts) sent by someone else to your friends and customers? Or do you download from Google and send greetings to your friends and customers? Do you still take screenshots of other people's WhatsApp status?
chaiwale, juicewale at most, shares the same post sent by someone else because he does not know how to edit / design photos.
One thing is clear from all these things in Today's world branding is very important. Because branding can give a new identity to your business, develop a good trust with customers and grow your business, everyone needs branding to increase their business. Whether it is chaiwale, juicewale, be it paanwale or foodwale.
High and low-class merchants hire agencies for branding, which is impossible for a lower-class trader (e.g.- chaiwale, paanwale, juicewale, salonwale, tailor). To fulfill this need, we have brought "picwale" app for you so that now you can also send wishes to your friends and customers without any design skills. Just one app, one-time profiling, and getting 100% readymade posts for social channels, WhatsApp status, Instagram reels, etc.
Whether you are a small business or a medium business person, whether you are a juice wale, chai wale, or a farmer, it is not necessary that you should have design skills to create a post. From Now, You can create a post for your business on the Picwale app in just a few clicks. We have allowed the same design to be made in different languages and ratios.
Picwale App fulfills your requirement for WhatsApp Status, Instagram Reels, Facebook Stories, Snapchat Post, Pinterest Post, LinkedIn Post, etc. You can download posts for all these platforms in just a few clicks.
You can share birthday wishes, congratulations, event posts, and brand posts with your friends, customers, and relatives, and that too in your own language.
OUR APP FEATURES
EASIEST INTERFACE

Shortlist/Reminder Designs
Multiple Language/Ratio
No Ads & Watch Credit
BIGGEST DATABASE

Royalty-Free Images
No Attribution Required
Adding 100 New Designs Per Day
LOWEST PRICING

120 Designs Free
Blank Image Download
Premium Designs < 1 Rupee