READYMADE VASANT PANCHAMI POST
Vasant Panchami is a Hindu festival celebrated every year in the month of Magh, according to the Hindu calendar. It is celebrated on the fifth day of the bright half of the lunar month of Magh. The festival is also known as Basant Panchami and marks the end of winter and the beginning of spring. The festival is celebrated by worshipping the Hindu goddess of knowledge, Saraswati. People wear yellow clothes and offer prayers to the goddess. People also decorate the temples with yellow flowers and offer sweets to the goddess. People also fly kites on this day to signify the beginning of the new season. The festival also marks the start of preparations for the upcoming Holi festival.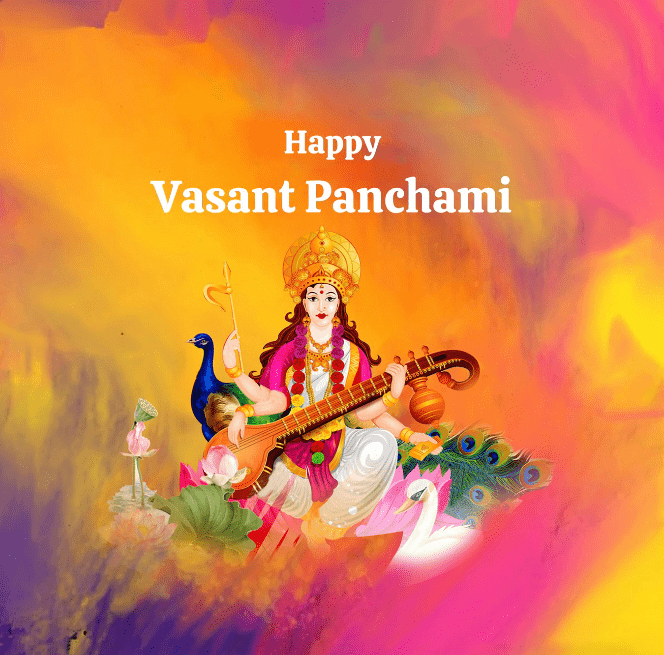 HISTORY OF VASANT PANCHAMI DAY
Vasant Panchami, or Shri Panchami, is an ancient Hindu festival that marks the beginning of spring in India. It is celebrated on the fifth day of the Hindu month of Magha (February–March). The festival has been celebrated for centuries and is dedicated to the Hindu god Saraswati, the goddess of knowledge, music, and all the creative arts.
Vasant Panchami marks the end of the winter season and the start of the harvest season. It is a time of joy, when Hindus welcome the new season and celebrate the bounty of nature. Hindus often wear yellow clothes and offer prayers to Saraswati. They also perform special rituals to honour the goddess and seek her blessings.
The festival also marks the start of preparations for the upcoming Hindu festivals of Holi, Rama Navami, and Diwali. On this day, many Hindus also visit temples dedicated to Saraswati and offer her flowers and sweets. People also engage in kite flying, singing, and dancing.
In some parts of India, Vasant Panchami is celebrated with a lot of fanfare. Giant effigies of Saraswati are taken out in processions, and people take part in cultural programs.
HOW TO CELEBRATE VASANT PANCHAMI DAY?
Wear yellow clothing or accessories.
Vasant Panchami is a Hindu festival that celebrates the arrival of spring. Wearing yellow is a popular way to celebrate this festival, so wear something yellow to get in the spirit.
Visit a temple.
Visiting a temple is a great way to commemorate the arrival of spring. You can also learn more about the history and customs of the festival while you're there.
Enjoy traditional sweets.
Vasant Panchami is associated with many traditional sweets, such as kheer, halwa, and barfi. Enjoying these sweets is a great way to celebrate the festival.
NATIONAL FARMER'S DAY DATES FOR THE UPCOMING 5 YEARS
| YEAR | DATE | DAY |
| --- | --- | --- |
| 2023 | 26 January | Thursday |
| 2024 | 14 February | Wednesday |
| 2025 | 2 February | Sunday |
| 2026 | 23 January | Friday |
| 2027 | 11 February | Thursday |
DOWNLOAD YOUR POST IN JUST A FEW CLICKS

LOGIN
First, log in with your mobile no. and fill in your profile

SELECT CATEGORY
Select your category from 150+ business category

GET STARTED
Now, You are ready to download Your Post.
WHY CHOOSE PICWALE?
Do you still send wishes (posts) sent by someone else to your friends and customers? Or do you download from Google and send greetings to your friends and customers? Do you still take screenshots of other people's WhatsApp status?
chaiwale, juicewale at most, shares the same post sent by someone else because he does not know how to edit / design photos.
One thing is clear from all these things in Today's world branding is very important. Because branding can give a new identity to your business, develop a good trust with customers and grow your business, everyone needs branding to increase their business. Whether it is chaiwale, juicewale, be it paanwale or foodwale.
High and low-class merchants hire agencies for branding, which is impossible for a lower-class trader (e.g.- chaiwale, paanwale, juicewale, salonwale, tailor). To fulfill this need, we have brought "picwale" app for you so that now you can also send wishes to your friends and customers without any design skills. Just one app, one-time profiling, and getting 100% readymade posts for social channels, WhatsApp status, Instagram reels, etc.
Whether you are a small business or a medium business person, whether you are a juice wale, chai wale, or a farmer, it is not necessary that you should have design skills to create a post. From Now, You can create a post for your business on the Picwale app in just a few clicks. We have allowed the same design to be made in different languages and ratios.
Picwale App fulfills your requirement for WhatsApp Status, Instagram Reels, Facebook Stories, Snapchat Post, Pinterest Post, LinkedIn Post, etc. You can download posts for all these platforms in just a few clicks.
You can share birthday wishes, congratulations, event posts, and brand posts with your friends, customers, and relatives, and that too in your own language.
OUR APP FEATURES
EASIEST INTERFACE

Shortlist/Reminder Designs
Multiple Language/Ratio
No Ads & Watch Credit
BIGGEST DATABASE

Royalty-Free Images
No Attribution Required
Adding 100 New Designs Per Day
LOWEST PRICING

120 Designs Free
Blank Image Download
Premium Designs < 1 Rupee