READYMADE VIJAY DIWAS POST
Vijay Diwas on December 16 is when the Indian Armed Forces, including veterans, citizens, and students, pay tribute to and remember the sacrifices of their soldiers. Vijay Diwas celebrates India's historic military victory against Pakistan in the 1971 war, which also liberated Bangladesh from Pakistan.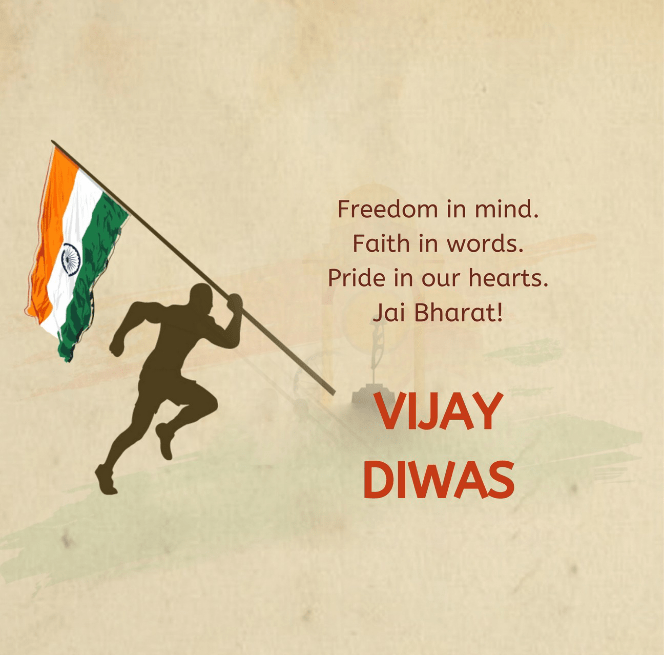 HISTORY OF VIJAY DIWAS
Vijay Diwas commemorates and celebrates the victory of the Indian Armed Forces in 'Operation: Vijay' against the infiltrating Pakistani troops. Rich tributes are given to martyrs who put their lives on the line during the war.
Since India and Pakistan's partition in the year 1947, there has always been animosity between the two countries for many reasons. One of these reasons was with regard to East Pakistan. The events leading to the 1971 war were what prompted the Indian troops to get involved; Non-muslims residing in West Pakistan were being targeted and required intervention. The war between Pakistan and India lasted for 13 days, ending on December 16, 1971, and resulting in the liberation of a new country by the name of Bangladesh. It was India's front that made nearly 93 thousand Pakistani soldiers surrender and altered the contours of the map of the world.
A proud moment for the Indian army. This was their first conclusive win after the end of World War 2. It is also quite a big day for Bangladesh, as it earned its status as an independent entity. The day is celebrated in Bangladesh as 'Bijoy Dibosh.'
Military holidays are always observed with great zeal in India. Government officials, the Armed Forces, and the citizens of India go all out to express their gratitude to their protectors.
WHY IS VIJAY DIWAS IMPORTANT?
It gave liberation to Bangladesh.
The 1971 war gave liberation to Bangladesh. The flag of Bangladesh was raised for the first time on March 23.
It pays homage to the troops.
A lot of soldiers lost their lives, leaving behind their families. Without their valor, India or Bangladesh wouldn't be what it is today. It is important that the sacrifices of these soldiers are never forgotten.
Learning from history.
Great wars and their accompanying losses aside, everyone can benefit from learning from history. There are lessons to be learned and prevented.
VIJAY DIWAS DATES FOR THE UPCOMING 5 YEARS
| YEAR | DATE | DAY |
| --- | --- | --- |
| 2022 | 16 December | Friday |
| 2023 | 16 December | Saturday |
| 2024 | 16 December | Monday |
| 2025 | 16 December | Tuesday |
| 2026 | 16 December | Wednesday |
DOWNLOAD YOUR POST IN JUST A FEW CLICKS

LOGIN
First, log in with your mobile no. and fill in your profile

SELECT CATEGORY
Select your category from 150+ business category

GET STARTED
Now, You are ready to download Your Post.
WHY CHOOSE PICWALE?
Do you still send wishes (posts) sent by someone else to your friends and customers? Or do you download from Google and send greetings to your friends and customers? Do you still take screenshots of other people's WhatsApp status?
chaiwale, juicewale at most, shares the same post sent by someone else because he does not know how to edit / design photos.
One thing is clear from all these things in Today's world branding is very important. Because branding can give a new identity to your business, develop a good trust with customers and grow your business, everyone needs branding to increase their business. Whether it is chaiwale, juicewale, be it paanwale or foodwale.
High and low-class merchants hire agencies for branding, which is impossible for a lower-class trader (e.g.- chaiwale, paanwale, juicewale, salonwale, tailor). To fulfill this need, we have brought "picwale" app for you so that now you can also send wishes to your friends and customers without any design skills. Just one app, one-time profiling, and getting 100% readymade posts for social channels, WhatsApp status, Instagram reels, etc.
Whether you are a small business or a medium business person, whether you are a juice wale, chai wale, or a farmer, it is not necessary that you should have design skills to create a post. From Now, You can create a post for your business on the Picwale app in just a few clicks. We have allowed the same design to be made in different languages and ratios.
Picwale App fulfills your requirement for WhatsApp Status, Instagram Reels, Facebook Stories, Snapchat Post, Pinterest Post, LinkedIn Post, etc. You can download posts for all these platforms in just a few clicks.
You can share birthday wishes, congratulations, event posts, and brand posts with your friends, customers, and relatives, and that too in your own language.
OUR APP FEATURES
EASIEST INTERFACE

Shortlist/Reminder Designs
Multiple Language/Ratio
No Ads & Watch Credit
BIGGEST DATABASE

Royalty-Free Images
No Attribution Required
Adding 100 New Designs Per Day
LOWEST PRICING

120 Designs Free
Blank Image Download
Premium Designs < 1 Rupee