READYMADE WORLD ARTHRITIS DAY POST
World Arthritis Day is celebrated on October 12 every year. The day is designed to raise global awareness about the plurality of Arthritis. Doctors and well-wishers try to raise awareness through activities and awareness campaigns. Discussions are held regarding the symptoms connected to Arthritis and the importance of early diagnosis. Patients are also told of the ways to gain access to proper medical treatment. Among the different types of Arthritis are ankylosing spondylitis, gout, lupus, osteoarthritis, and rheumatoid Arthritis. With timely medical intervention, patients can lead comfortable life.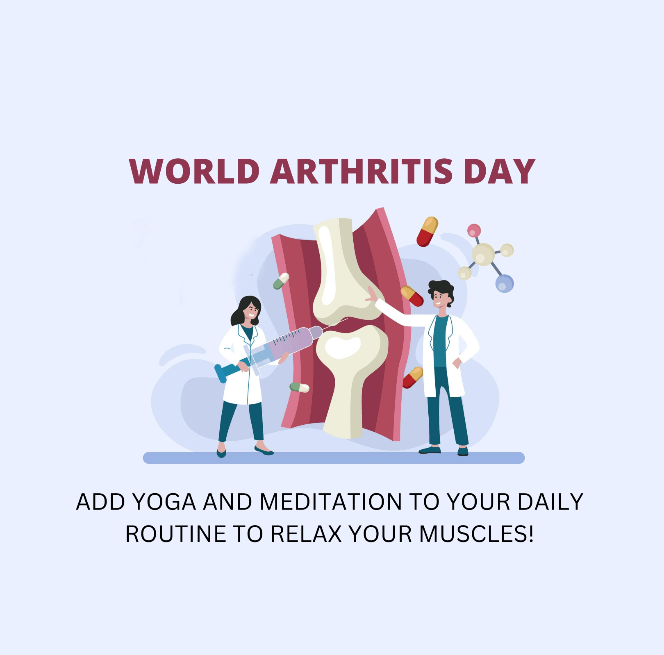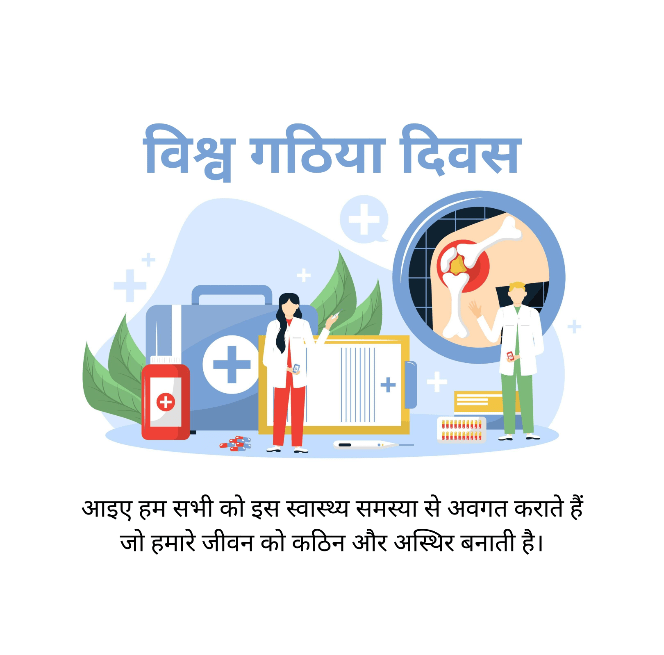 HISTORY OF WORLD ARTHRITIS DAY
The Arthritis Foundation brought about World Arthritis Day. Arthritis is derived from the Greek words 'arthro,' meaning 'joint,' and 'itis,' meaning 'inflammation.' Arthritis is a condition involving inflammation of the joints. It can affect any living thing that has bones. Evidence shows that ankle arthritis was present in dinosaurs and has been present in humans for at least as far back as 4500 B.C.! In fact, it was one of the most common afflictions of prehistoric peoples. It was first closely examined and classified in William Musgrave's work "De Arthritide Symptomatic," written in 1715.
There is no cure for rheumatoid arthritis and osteoarthritis, although regular exercise and weight reduction can suppress the effects. There is, of course, a pharmaceutical aid that focuses on reducing the pain of the condition rather than seeking to remove it; physical therapy also helps. For a person who has arthritis, movement becomes difficult. Yet they must exercise and keep their joints mobile to reduce inflammation, which has marked improvements in the long-term relief of the pain associated with it.
Much associate arthritis with the elderly and the health concerns that affect them. This is mostly correct, as statistical evidence shows that those over 65 are the primary sufferers. But 30% of all sufferers are under the age of 65, some being teenagers and, though rarely, infants.
WHY WORLD ARTHRITIS DAY IS IMPORTANT?
Creates awareness
The main focus of World Arthritis Day is to raise awareness of the disease. Increased awareness means more people can recognize their condition and avail themselves of treatment.
Creates a community
World Arthritis Day is also an opportunity for patients, families, and caregivers to come together and share their experiences. This creates a sense of belonging.
Celebrates progress
Research on new treatments and medicines for arthritis is always ongoing. And the day celebrates arthritis patients and medical science's progress toward defeating the disease.
WORLD ARTHRITIS DAY DATES
| YEAR | DATE | DAY |
| --- | --- | --- |
| 2022 | 12 October | Wednesday |
| 2023 | 12 October | Thursday |
| 2024 | 12 October | Saturday |
| 2025 | 12 October | Sunday |
| 2026 | 12 October | Monday |
CAN I CREATE A POST WITHOUT KNOWING DESIGN SKILLS?
Whether you are a small business or a medium business person, whether you are a juice wale, chai wale, or a bakery wale, it is not necessary that you should have design skills to create a post. From Now, You can create a post for your business on the Picwale app in just a few clicks. We have allowed the same design to be made in different languages and ratios.
THE IMPORTANCE OF SOCIAL SHARING IN BUSINESS
The importance of social sharing in business cannot be emphasized enough. The benefits are numerous, and the results demonstrate enormous potential for social media marketing to increase sales. Social media is the most cost-effective tool for sharing content and increasing the visibility of your business. Social media allows businesses to form consumer relationships, build trust, share content, and network with other businesses. Below we look at the importance of social sharing in business and how it can be beneficial.
INCREASED BRAND RECOGNITION
Social media is an excellent way to introduce large audiences of people to your brand. Increased visibility through social media is invaluable, making your brand recognizable and more accessible to new customers. It also allows you to be transparent with potential customers, building relationships and your reputation as a trustworthy business.
PROMOTION
With the help of social media, you can share your content faster and easier than ever before. In just a few clicks, you could have an article or image uploaded that has the potential to be viewed by thousands of people. All you need to do is share your content and add a call to action, encouraging potential customers to get in touch with your company if they want to know more.
Each post you share will be introduced to a new network of individuals, and the more people who know about your business, your ethos and what you offer, the better.
BUILDING LINKS
Using social media together with your content marketing helps you gain and build links organically. As you develop your social media following, you build up a large following of people that can share your content. Every piece of content that hits your website should immediately be shared on your social profiles. Social media is a beautiful way to help enhance your search engine rankings. The days of shortcuts are over, and it's time to get involved and get social.
INCREASE SALES
One of the most significant benefits of social media marketing is the ability to target selected audiences. Social media gives you a great platform to act as an opportunist, increasing your sales social media by working on becoming an engaging brand. Ultimately, you want to develop interest through shared content, interaction with followers, developing relationships, and gaining a following. If you do these things, you will see a long-term increase in your sales.
DOWNLOAD YOUR POST IN JUST A FEW CLICKS

LOGIN
First, log in with your mobile no. and fill in your profile

SELECT CATEGORY
Select your category from 150+ business category

GET STARTED
Now, You are ready to download Your Post.
WHY CHOOSE PICWALE?
Do you still send wishes (posts) sent by someone else to your friends and customers? Or do you download from Google and send greetings to your friends and customers? Do you still take screenshots of other people's WhatsApp status?
chaiwale, juicewale at most, shares the same post sent by someone else because he does not know how to edit / design photos.
One thing is clear from all these things in Today's world branding is very important. Because branding can give a new identity to your business, develop a good trust with customers and grow your business, everyone needs branding to increase their business. Whether it is chaiwale, juicewale, be it paanwale or foodwale.
High and low-class merchants hire agencies for branding, which is impossible for a lower-class trader (e.g.- chaiwale, paanwale, juicewale, salonwale, tailor). To fulfill this need, we have brought "picwale" app for you so that now you can also send wishes to your friends and customers without any design skills. Just one app, one-time profiling, and getting 100% readymade posts for social channels, WhatsApp status, Instagram reels, etc.
Whether you are a small business or a medium business person, whether you are a juice wale, chai wale, or a farmer, it is not necessary that you should have design skills to create a post. From Now, You can create a post for your business on the Picwale app in just a few clicks. We have allowed the same design to be made in different languages and ratios.
Picwale App fulfills your requirement for WhatsApp Status, Instagram Reels, Facebook Stories, Snapchat Post, Pinterest Post, LinkedIn Post, etc. You can download posts for all these platforms in just a few clicks.
You can share birthday wishes, congratulations, event posts, and brand posts with your friends, customers, and relatives, and that too in your own language.
OUR APP FEATURES
EASIEST INTERFACE

Shortlist/Reminder Designs
Multiple Language/Ratio
No Ads & Watch Credit
BIGGEST DATABASE

Royalty-Free Images
No Attribution Required
Adding 100 New Designs Per Day
LOWEST PRICING

120 Designs Free
Blank Image Download
Premium Designs < 1 Rupee