READYMADE WORLD PULSES DAY POST
The annual World Pulses Day is observed on February 10. In 2016, the United Nations established Pulses Day as an annual international celebration of the significance and nutritional advantages of pulses (sometimes referred to as "legumes"). Additionally, the U.N. considers pulses to be not only nutrient-dense but also capable of assisting in the creation of sustainable food systems that will help end world hunger and poverty. The U.N. claims that this is a successful plan for carrying out its 2030 Agenda for Sustainable Development, which seeks to improve food security and promote international peace.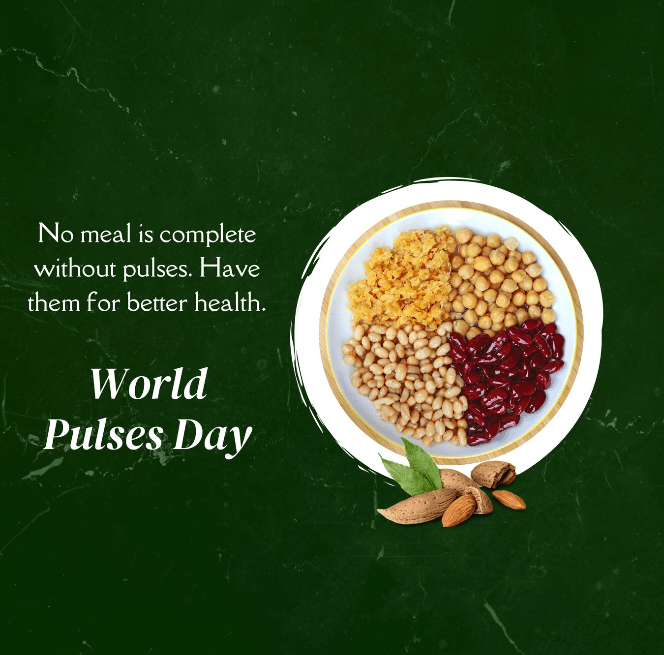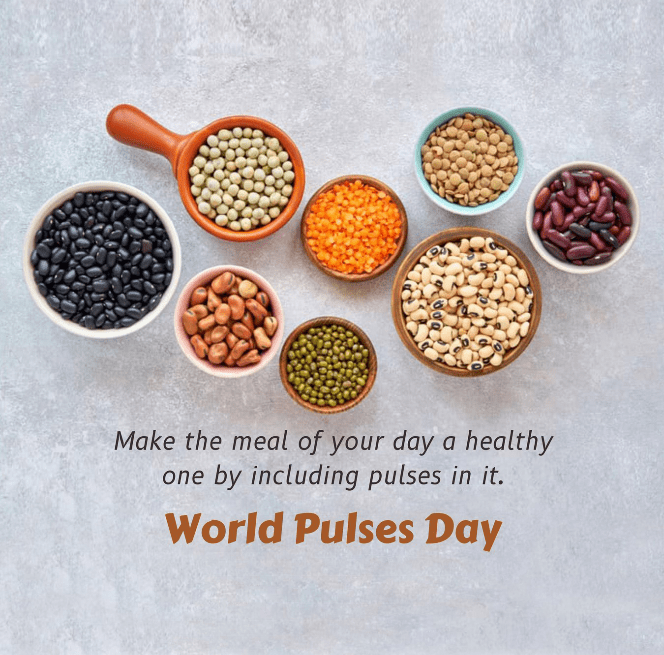 HISTORY OF WORLD PULSES DAY
World Pulses Day was founded in 2016 by the United Nations Food and Agriculture Organization (FAO) to celebrate and raise awareness of the nutritional benefits of pulses and their importance in sustainable food systems. Every year on February 10th, the day is observed.
World Pulses Day is celebrated to emphasize the role of pulses in sustainable food systems, nutrition, and healthy diets. On this day, everyone involved in the pulse industry works together to increase the production and consumption of pulses and get people to eat a wider range of foods.
In 2020, World Pulses Day was celebrated in more than 60 countries and territories around the world, with events like pulse cooking competitions, pulse eating challenges, culinary workshops, and educational events about the health benefits of pulses.
World Pulses Day is part of the FAO's International Year of Pulses, which has the goal of raising awareness of the importance of pulses in sustainable food systems and nutrition. The International Year of Pulses was started in 2016 to help increase the production and use of pulses around the world.
HOW TO CELEBRATE WORLD PULSES DAY?
Host a Pulses Cooking Class:
World Pulses Day is the perfect occasion to get creative in the kitchen and learn how to cook with pulses. Host a cooking class to teach your friends, family, and neighbours all about the different types of pulses and how to prepare them. Give out recipes for delicious dishes and even samples for everyone to try!
Plant a Pulse Garden:
Make the most of World Pulse Day by planting a pulse garden. Choose a variety of different pulses and plant them in your garden or in containers. You'll not only be able to eat fresh pulses all summer, but you'll also be helping the environment by reducing food waste and preserving the soil.
Donate to a Hunger Relief Organization:
World Pulses Day is also a great time to give back to those in need. Make a donation to a hunger relief organization that works to provide nutritious meals to those who don't have access to them. With your donation, you'll be helping to ensure that everyone has access to the nutritious benefits of pulses.
WORLD PULSES DAY FOR THE UPCOMING 5 YEARS
| YEAR | DATE | DAY |
| --- | --- | --- |
| 2023 | 10 February | Friday |
| 2024 | 10 February | Saturday |
| 2025 | 10 February | Monday |
| 2026 | 10 February | Tuesday |
| 2027 | 10 February | Wednesday |
DOWNLOAD YOUR POST IN JUST A FEW CLICKS

LOGIN
First, log in with your mobile no. and fill in your profile

SELECT CATEGORY
Select your category from 150+ business category

GET STARTED
Now, You are ready to download Your Post.
WHY CHOOSE PICWALE?
Do you still send wishes (posts) sent by someone else to your friends and customers? Or do you download from Google and send greetings to your friends and customers? Do you still take screenshots of other people's WhatsApp status?
chaiwale, juicewale at most, shares the same post sent by someone else because he does not know how to edit / design photos.
One thing is clear from all these things in Today's world branding is very important. Because branding can give a new identity to your business, develop a good trust with customers and grow your business, everyone needs branding to increase their business. Whether it is chaiwale, juicewale, be it paanwale or foodwale.
High and low-class merchants hire agencies for branding, which is impossible for a lower-class trader (e.g.- chaiwale, paanwale, juicewale, salonwale, tailor). To fulfill this need, we have brought "picwale" app for you so that now you can also send wishes to your friends and customers without any design skills. Just one app, one-time profiling, and getting 100% readymade posts for social channels, WhatsApp status, Instagram reels, etc.
Whether you are a small business or a medium business person, whether you are a juice wale, chai wale, or a farmer, it is not necessary that you should have design skills to create a post. From Now, You can create a post for your business on the Picwale app in just a few clicks. We have allowed the same design to be made in different languages and ratios.
Picwale App fulfills your requirement for WhatsApp Status, Instagram Reels, Facebook Stories, Snapchat Post, Pinterest Post, LinkedIn Post, etc. You can download posts for all these platforms in just a few clicks.
You can share birthday wishes, congratulations, event posts, and brand posts with your friends, customers, and relatives, and that too in your own language.
OUR APP FEATURES
EASIEST INTERFACE

Shortlist/Reminder Designs
Multiple Language/Ratio
No Ads & Watch Credit
BIGGEST DATABASE

Royalty-Free Images
No Attribution Required
Adding 100 New Designs Per Day
LOWEST PRICING

120 Designs Free
Blank Image Download
Premium Designs < 1 Rupee